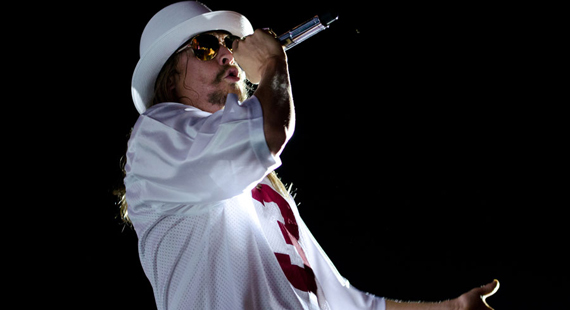 Mark Runyon | ConcertTour.org
Kid Rock Kicks Revival Tour into High Gear
Kid Rock has added more shows to his current "Rock and Roll Revival Tour." The trek will now stretch into the middle of September.
The rap rocker from Detroit returned from Europe recently and will be starting on a new round of seven Canadian concert dates in Victoria, British Columbia on July 5. The month will wrap up in Michigan for a stand of three nights. In August, he will join Lynyrd Skynyrd on the "Rock and Rebels Tour" where they will visit nine cities. Nine shows in the US have been added by Rock to his schedule, with most of them intermingling with his Skynyrd dates.
Rock and the "Rock and Roll Revival Tour" have been on tour since January. The outing is a revue style trek and has featured the rapper along with the Twisted Brown Trucker Band. They have played medleys of hits along with special guests that have included Reverend Run from Run D.M.C., Dickey Betts, former guitarist for the Allman Brothers Band, and Peter Wolf, former frontman for the J. Giles Band.
The trek is in support of "Rock N Roll Jesus," the platinum selling album that was released by Kid Rock in October. It topped Billboard's 200 chart and has spawned the modern rock and mainstream hit singles "All Summer Long" "Amen" and "So Hott." "All Sumer Long," a mash up of "Sweet Home Alabama" by Lynyrd Skynyrd and "Werewolves of London" by Warren Zevon is climbing the adult, country, pop, and Top 40 charts currently. The single's video is streaming at the My Space page of Rock's.
Recently, Kid Rock made the headlines for his YouTube rant where he encouraged people, tongue in cheek, to go ahead and steal his music. He suggested they might as well steal everything, including gas, cars, iPods and laptops while they were at it. Rock's rant followed his announcement that he would boycott the US Apple iTunes store because he doesn't think they pay the artists enough. Rock later clarified that he was just kidding about encouraging people to steal.