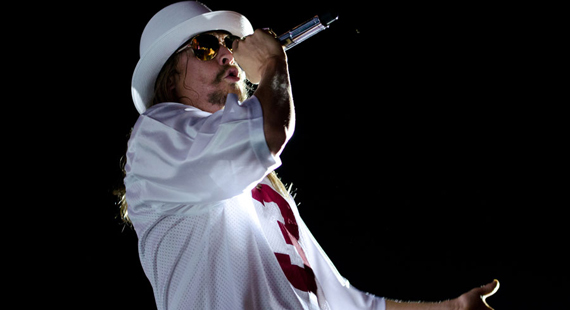 Mark Runyon | ConcertTour.org
Kid Rock Goes Cruisin' to Redneck Paradise
Music cruises seem to be all the rage right now, and Kid Rock has been conducting annual festival cruises for three years now, and he has announced that the fourth installment of the "Chillin' The Most Cruise" will take place in March of next year.
For the first time, the cruise will be held on the Norwegian Pearl, and the luxury liner will depart from Miami on March 6, 2013. The cruise will sail to the private beaches of Great Stirrup Cay, Bahamas, which is known on the cruise as Redneck Paradise. The cruise will last until March 10
"What's better than 3?" asks a statement on the cruise's official website. "Of course, 4! Just when you thought you couldn't party any harder, Kid Rock is bringing you the 4th Annual Chillin' the most Cruise! It's time to start that base tan, do some curls to prepare for drink lifting, and tighten up that beach bod, because we're going to the new and improved Redneck Paradise."
The cruise is presented by Sixthman, who produces a number of music cruises, and say they do things a little differently than some promoters.
"We charter the full cruise ship, so anyone who books on one of our theme cruises will book through Sixthman, not through the cruise line," said Andy Levine, CEO of Sixthman. "The cost of a theme cruise is more than if a guest books through the cruise line because it includes all entertainment, live shows, onboard activities, and more."
Activities in the past have included flip cup, ping pong and trivia, in addition to the amenities of the ship. These include 13 bars and lounges, 19 dining experiences, a casino and a bowling alley.
The prices start at $675 per person, and for an additional fee, guests can participate in a pre-party on March 5. Support acts will be announced later.