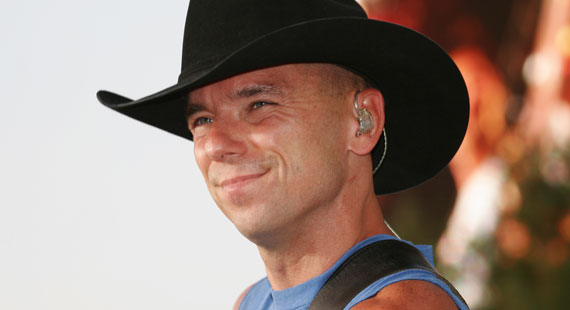 pasphotography | Shutterstock
Kenny Chesney Tours with Eric Church, Eli Young Band in 2013
Kenny Chesney has announced the initial dates of his 2013 headlining tour, and this time he'll be bringing along Eric Church and Eli Young Band to provide support.
The "No Shoes Radio Tour" kicks off March 16, 2013 at the Raymond James Stadium in Tampa, Florida, and is scheduled to run through an August 24 show at Gillette Stadium in Foxboro, Massachusetts. In between those dates, Chesney will visit stadiums in cities including Dallas, Milwaukee, Seattle, Pittsburgh, Denver, Atlanta and Detroit.
Eli Young Band will be on the tour for all of the dates, and Eric Church will appear on about half the dates, while Zac Brown Band will be the special guest on the dates not featuring Church. Kacey Musgraves also will open every date. More cities and dates should be announced soon for the tour.
Cheney says that the name of the tour comes from his desire to have a name for his fans.
"We've been looking for a way to give my fanbase a name," he explained when announcing the tour on No Shoes Radio. "Everybody has built No Shoes Nation. What we've created on the road is something so special – for the fans, myself, the band, crew… Their love for the music is constant; they are so passionate about the music."
During the announcement, Chesney also heaped praise on Musgraves.
"My manager Clint told me about this girl," Chesney said. "She's got a great record… one of the freshest, most authentic female singer/songwriters I've heard in a while."
He also said that he was somewhat unfamiliar with Eli Young Band until recently.
"I didn't know much about them, but their songs 'Crazy Girl' beat 'You and Tequila' for song of the year… and I went, 'Wait a minute!'" Chesney said. "So I went and listened to their record and was really impressed."
Zac Brown previously toured with Chesney back in the summer of 2011.