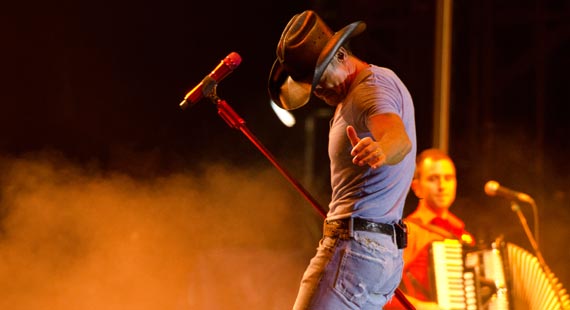 Mark Runyon | ConcertTour.org
Kenny Chesney, Tim McGraw Unite for Summer Stadium Tour
Kenny Chesney and Tim McGraw, who toured together extensively in the early 2000s, will reunite next summer for a string of dates that will take them across America as part of the Brothers of the Sun stadium tour.
First, the two spent a couple of summers on the George Strait Country Music Fest stadium tours, and then went on to tour sheds on their own, with McGraw headlining. This time around, Chesney will be closing the shows, though he says there will be a lot of collaboration between the two artists.
While McGraw was a higher draw in those early years, Chesney has become the top selling touring act in Country music, and was recently awarded his sixth straight Top Package award at the Billboard Touring Awards.
The dates will kick off June 2 at Tampa's Raymond James Stadium and will run through August 25, when the pair hit the Gillette Stadium in Foxboro, Mass. Other cities they will visit during the 19-date tour include Atlanta, Dallas, Nashville, Denver and Detroit, among others.
Both artists announced that the shows will likely be the most extensive touring they'll be doing for the upcoming year. Chesney told Billboard he was constantly working on his record and, though he may do some dates overseas, he probably would not be doing many more American dates.
McGraw, who has expanded his entertainment career to include prominent movie roles, said he currently is considering several film projects, so his scheduling is still up in the air, though he doubts there will be many more concerts scheduled.
Chesney's latest record, Hemingway's Whiskey, was released in September 2010 and has since sold over 1 million copies. McGraw hasn't released a record since October 2009 when Southern Voice was released, which also went to number one on the Billboard Country charts.