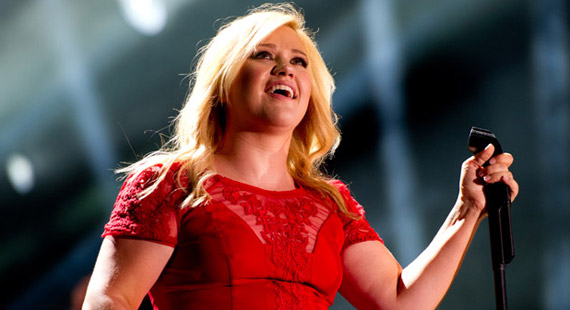 Mark Runyon | ConcertTour.org
Kelly Clarkson Takes to Road This Spring
Hot on the heels of her fifth album being released a couple weeks ago, former American Idol winner Kelly Clarkson has announced a North American tour that will take up most of the first third of 2012.
The tour will kick off on January 13 in Mashantucket, Conn. and continue through April 10 in San Diego. 33 dates have been announced so far, and cities she'll visit include New York, Boston, Shreveport, La., Seattle and Biloxi, Miss., among many others. Matt Nathanson will provide support for all shows.
Stronger, the fifth album by Clarkson, was released on October 24. The album debuted at number two on the Billboard 200 album chart, only kept out of the top position by Coldplay's most recent album, Mylo Xyloto, which was released the same day. Stronger was preceded by the single "Mr. Know It All," which cracked the top 10 of the Billboard Hot 100.
Clarkson first came into prominence after becoming the winner of the first American Idol in 2002. After finding success with her debut album, 2003's Thankful, Clarkson got her biggest hit with 2004's Breakaway. Containing the hits "Behind These Hazel Eyes," "Breakaway" and, particularly, "Since U Been Gone," That album went on to sell more than six million copies in the United States and won the Grammy Award for Best Pop Vocal Album. "Since U Been Gone" also won a Grammy, for Best Female Pop Vocal Performance.
Since that time, Clarkson has released three more albums, and had her most recent number one hit with "My Life Would Suck Without You," which was released in January 2009. After entering the charts at number 97, the song hit number one the following week in what was the largest jump of any song to number one in chart history.