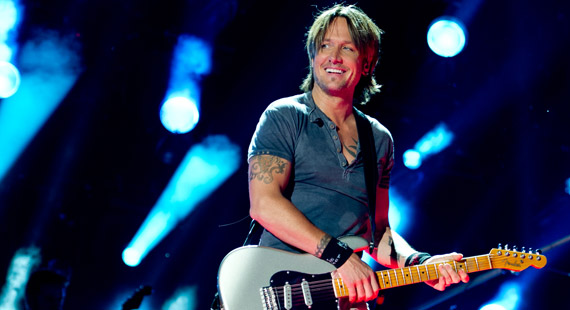 Mark Runyon | ConcertTour.org
Keith Urban Toasts 2014 With New 'Fuse' Tour Dates
American Idol judge Keith Urban has just announced the last leg of his Light The Fuse tour and its headed straight for 2014.
The tour kicked off this July and by the time its done with Keith, he'll have played 58 whole shows. The tour has seen the singer perform a couple of landmark concerts, including shows at the Hollywood Bowl and Red Rocks Ampitheatre in Colorado.
Of the remaining shows in leg two (i.e. this leg) of the tour, Urban has yet to visit a number of cities in Florida, California, Pennsylvania, Arizona, and Connecticut, and more.
The final leg of the tour kicks off on January 9th 2014 in Grand Rapids, Michigan and includes five stops in Canada, as well as stops in New York, Knoxville, Minneapolis, Chicago, among others, before wrapping up in Nashville on February 1st.
The tour is in support of his upcoming album Fuse which is due for release on September 10th, so final leg-attendees can look forward to knowing the words for sing-along purposes.
Support comes from special guests Little Big Town and opener, Dustin Lynch, who will be replaced by Brett Eldredge for the Canadian shows.
Urban recently confirmed that he'd be back for the next season of American Idol, making him the only returning judge from season 12, so it looks like he's gonna have a busy couple of years, after which, we imagine, he'll have a long bath and a cup of tea.
Urban has released a total of nine studio albums, charted 29 singles on the US country charts (of which 14 have climbed to the top spot), has one a whole table's worth of awards on Wikipedia, and is married to Nicole Kidman. Keith Urban: You da man.