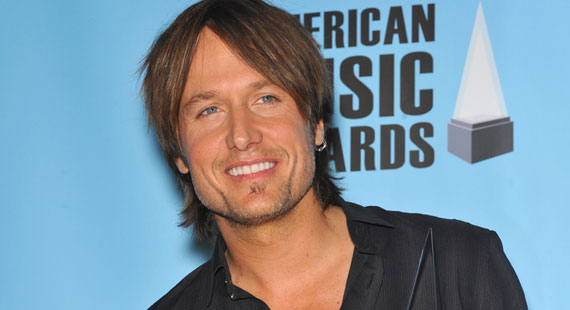 Featureflash | Shutterstock
Keith Urban Readies 2013 World Tour with Australia Kickoff
Keith Urban has announced that his 2013 headlining world tour will kick off in his homeland of Australia.
The new tour will kick off on January 25-26 with a two-night stand at the Entertainment Centre in Brisbane. After those dates, Urban will head to Sydney to play a show on January 30 at Allphones Arena. The final scheduled Australian date will be held at the Rod Laver Arena in Melbourne on February 2. Other dates around the world are sure to follow soon, and Urban seems excited about kicking off the new tour.
"I can't wait to tour in Australia again, new music new show, I know we're gonna have a blast!" Urban said in a statement on his website announcing the tour. "Really looking forward to playing to a rowdy summer crowd." He later wrote on his Facebook page that, "Being such a Queenslander at heart, I'm stoked we can start the Australian tour in Brisband, I reckon it's gonna go off. Can't wait to tour again, see you in January Brissy!!"
The new music Urban mentioned likely refers to the new album he currently is working on. Though no official release date or album title has yet been released, he did recently tell Nashville newspaper the Tennessean that the album is more personal than his previous albums.
"My intention for the record is to start exploring the stories in my own life," he told the paper in an interview. "There's plenty of them, and I've already been through a lot of things and there's a lot more of that exploration that's happening already. I think it is taking shape a little bit. It feels like it's the first one."
Tickets for the Australian shows go on sale on Monday, June 25, but members of Urban's Monkeyville fan club can purchase the tickets today.