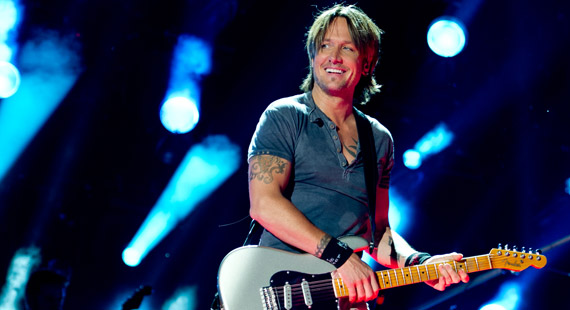 Mark Runyon | ConcertTour.org
Keith Urban Launches 'Fuse' by Playing Nashville Bars Friday
He's either an alcoholic or he really loves his fans, and I'm sure he's not an alcoholic, but Keith Urban is taking latest album Fuse on a pub crawl to probably rival The Hangover.
The pub crawl is scheduled to kick off this Friday (September 6th) in downtown Nashville and is set to be an exclusive event in celebration of his upcoming album. Getting involved in proceedings are Clear Channel Country WSIX/NASHVILLE at Legends Corner, Cumulus WSM-F/NASHVILLE at Tootsies and Cumulus WKDF/NASHVILLE at The Stage. Lucky fans can win tickets to the whole event by tuning into those stations.
Urban's latest album, Fuse, is due for release on Tuesday September 10th, and is set to be his most experimental album yet, with production duties filled in by Stargate and Benny Blanco (Beyoncé, Katy Perry), Jay Joyce (Eric Church, Little Big Town) and Butch Walker (Train, P!nk), none of whom have worked with the country star before.
Urban recently told Billboard that the album was, in part, inspired by his current fascination with electronic elements in music, as well as quote that he read from U2′s The Edge, naturally.
"I've always had a deep, deep fascination with the fusion of robotocism and human elements. That's always been in my songwriting. It's just never been that present in my records, and it was something I wanted to explore more."
"He [The Edge] said that machinery, when you blend it with the human element, makes the human element that much more human. I thought, 'That's a really insightful way to look at it.' There's something very appealing to me about total machinery—whether it's drum machines or sequenced keyboard parts—that's completely robotic. And then there's a human voice on top. And then add in my human instruments like a mandolin, or a six-string banjo or acoustic guitar. Those things fused together are very appealing to me."
"Roboticism" is a good word, isn't it? I'm gonna start working that into conversation more often.