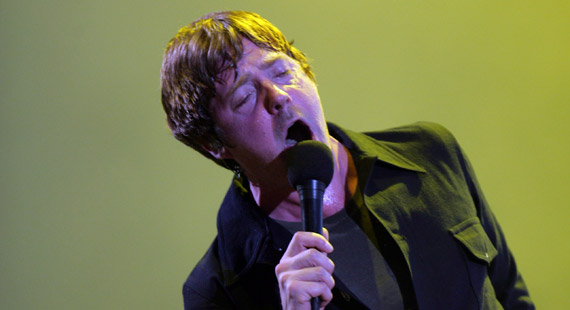 Northfoto / Shutterstock
Kaiser Chiefs Welcome 2013 with 13 Date UK Tour
U.K. rockers Kaiser Chiefs are likely still reeling from their performance at the closing ceremonies of the 2012 Summer Olympics in London, but now they're looking into the future and have booked 2013 tour around the United Kingdom.
The 13-date trek will kick off at the Carlisle Sands Centre on February 11, and the tour is scheduled to run through March 1 with a show at the O2 Brixton Academy. In between those dates, the band will visit Glasgow, Dunfermline, Manchester, Bridlington, Newcastle, Preston, Cheltenham, Wolverhampton, Exeter, Southampton, Margate and Cambridge.
The jaunt will support the group's new singles collection, Souvenir: The Singles 2004-2012. The album was released in June of this year, and in addition to 14 previously released singles by the band, the album includes two new songs: "Listen to Your Head" and "On the Run." Other hit singles included on the compilation are "Oh My God," "Modern Way," "I Predict a Riot" and "Ruby."
During the group's appearance at the closing ceremonies of the Olympics earlier this month, they performed a rendition of The Who's classic "Pinball Wizard." The group also will play the Reading and Leeds festival, which take place this weekend.
The band's most recent album of new material was The Future is Medieval, which was released in the UK in June of last year. The same album was then reissued in North America in March of this year under the title, Start the Revolution Without Me. The North American version features an altered track listing and includes the song "On the Run" that is on Souvenir.
The Kaiser Chiefs, which originally formed in England in the late 1990s, found widespread acclaim with their debut album, 2005s Employment. That album sold nearly 2 million copies in Europe, with most of those sales coming from the U.K.