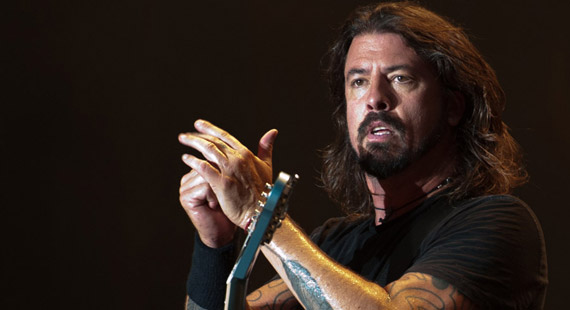 Mark Runyon | ConcertTour.org
Justin Timberlake, Sound City Players, Iggy & The Stooges Join SXSW 2013
We're exactly a week away from the beginning of the music portion of this year's South by Southwest festival in Austin on March 12, but the surprise guests are still being announced, namely Iggy Pop and the Stooges, Justin Timberlake and Dave Grohl's Sound City Players.
Just in case you think those Sound City Players are some of Dave Grohl's unknown friends he put together because he didn't feel like convening the Foo Fighters, it should be pointed out that the "Players" include Stevie Nicks, John Fogerty, Rick Springfield, Alain Johannes, Corey Taylor, Brad Wilk (Rage Against the Machine) and Lee Ving (Fear). All were featured in Grohl's documentary, "Sound City," and Grohl also is the keynote speaker at this year's event. Unfortunately, it doesn't appear that Paul McCartney – who also was in the documentary – will be showing up, though Austin might explode if he makes a surprise visit.
That group is scheduled to play Stubb's on Thursday, March 14. Iggy and the Stooges will perform at the Mohawk the day before that, and all we know about Timberlake's performance at this point is that he will play a private party sometime during the event. However, Austin television station KVUE reports that Austin Police have heard that Timberlake also will give a surprise performance, though there is no word yet on when or where.
These acts join an already exceptional lineup featuring Nick Cave and the Bad Seeds, Vampire Weekend, Flaming Lips, Yeah Yeah Yeahs, Kendrick Lamar, Iron & Wine, Devendra Banhart, Tenacious D, Local Natives, Eagles of Death Metal, Jim James, Dawes, Black Lips, Wavves, Earl Sweatshirt and Divine Fits, among many others.
The Flaming Lips performance was announced last month, but the band recently added a second show at SXSW, and will now perform March 14 and March 15. Additionally, the festival will feature the premiere the film "A Year in the Life of Wayne's Phone," a full-length film shot on Lips lead singer Wayne Coyne's iPhone.