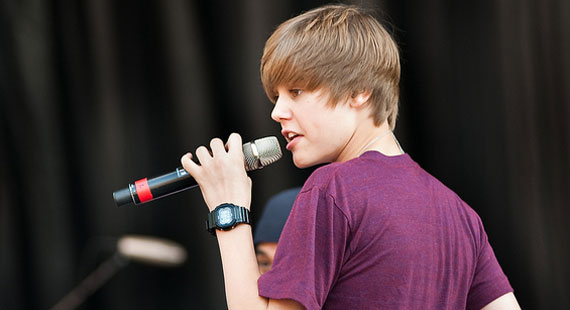 Justin Bieber Tour Breaks into Summer 2013
Justin Bieber's massive tour behind his most recent album Believe already was scheduled through January of next year, and now the pop star has announced new dates that will keep him on the road in North America into next summer.
The first new date will take place June 22 at the Valley View Casino Center in San Diego, and Bieber is scheduled to stay on the road at least through an August 10 show at Philips Arena in Atlanta. Other cities the singer will hit include Los Angeles, Las Vegas Denver, Dallas, Des Moines, Chicago, Boston, Toronto and Tampa. Many of the cities will host two Bieber shows.
Believe is Bieber third studio album, and was released in June of this year. The album debuted at number one on the Billboard 200 albums chart and has gone on to be certified platinum in the U.S., selling more than 1 million copies. The first single from the album, "Boyfriend," set a record by debuting at number one on iTunes in 32 countries. The video for that song has been viewed more than 44 million times on YouTube.
Justin Bieber was recently in the news for not making any news when he failed to earn any Grammy nominations for the 55th Annual Grammy Awards that will be held early next year. After he was not nominated for any awards at the televised nominations concert last week, his manager Scooter Braun voiced his displeasure on Twitter.
"The kid deserved it," Braun tweeted. "Grammy board u blew it on this one. The hardest thing to do is transition, keep the train moving. The kid delivered."
However, Bieber seems to be looking toward the future, and recently tweeted that he is already working on a new album.
"been writing a lot…new stuff…and yeah. The acoustic album, new arrangements, is happening… #withdankanter," he tweeted last week.