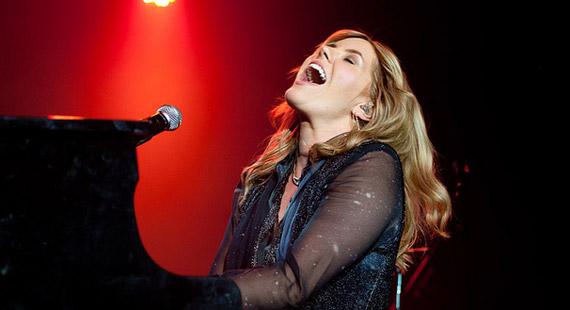 Mark Runyon | ConcertTour.org
John Mayer, Demi Lovato, Grace Potter Join Philly 4th of July Jam
John Mayer, Demi Lovato and the Roots will be among the artists taking the stage at the Philly 4th of July Jam this year, a festival being promoted as the "largest free concert in America."
The annual concert event is held right on the Benjamin Franklin Parkway in the city to celebrate Independence Day, and is expected to welcome more than 500,000 people into the city. Of course, there will also be a fireworks display over the Philadelphia Museum of Art.
If you are unfortunate enough not to be in Philadelphia on the 4th this year, I would suggest finding some fireworks and celebrating America in your own neck of the woods. However, if for some reason you can't be bothered to get out of the house, you can watch a simulcast of the event on VH1 and Palladia from 8-11 pm Eastern.
Actually, hometown favorites the Roots won't be taking the stage so much as camping out there, as they will be the house band for the festival. ?uestlove and Tariq "Black Thought" Trotter also serve as the event's music directors. Other artists that will be performing include Jill Scott, Grace Potter, J. Cole and Ne Yo.
"The City of Philadelphia is proud to join with VH1 and Palladia in welcoming an incredibly talented group of musicians to our city this Fourth of July," said Philadelphia mayor Michael A. Nutter in a statement about the event.
As the event has grown over the years, organizers have made some changes to ensure crowds can secure a spot where they can see the stage. One of these changes involved moving the entire stage, which executive producer Scott Mirkin told Billboard about a couple years ago.
"We actually moved the location of the stage, which, I think, increased the unobstructed sight lines tremendously … We moved the stage 500 feet to the east on the Ben Franklin Parkway and that had a lot to do with the increased crowds," Mirkin said.