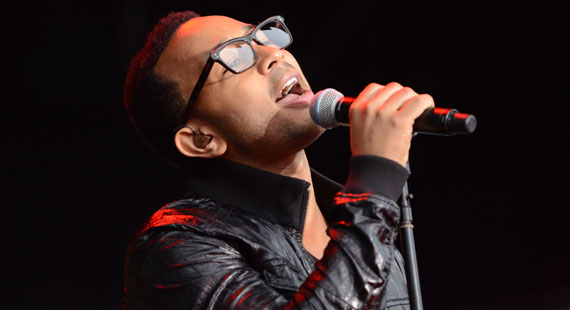 Mark Runyon | ConcertTour.org
John Legend Tours 'Love in the Future' This Fall
Soul Singer John Legend will undertake an extensive fall tour to support his upcoming album, Love in the Future.
The North American trek will kick off October 16 at the Ruth Eckerd Hall in Clearwater, Fla., and is currently scheduled to run through November 21 with a performance at the Fox Theater in Oakland, Calif. In between those dates, Legend will scarcely have a night off as he visits Atlantic City, Brooklyn, Toronto, Detroit, Chicago, Nashville and Los Angeles, among others. If you don't see your city on the schedule right now, the schedule also includes those five hopeful words: "more dates to be announced."
"I'm thrilled to be back on the road," Legend said in a statement. "I look forward to seeing my fans across the country and sharing a beautiful night with them."
Two support acts also have been announced for the tour: Stacy Barthe will join Legend for the first half of the tour, while Lianne La Havas will take over opening duties for the second half.
Barthe is a soul singer-songwriter know for writing tracks for Britney Spears, Brandy, Estelle and Melanie Fiona. British singer La Havas released her debut solo album Is Your Love Big Enough? on Warner Bros. Records last month.
Love in the Future will be Legend's fourth solo studio album, and is executive produced by Kanye West and Dave Tozer. Legend recently uploaded a teaser video of the album to YouTube. The video features a portion of a song from the album entitled "Caught Up," which was co-written by Legend and Kanye West.
Legend's most recent solo album was 2008's Evolver, which debuted at number four on the Billboard 200 albums chart. However, in the time since that album's release, the singer also collaborated with the Roots on the 2010 album Wake Up!, which went on to win three Grammy Awards.