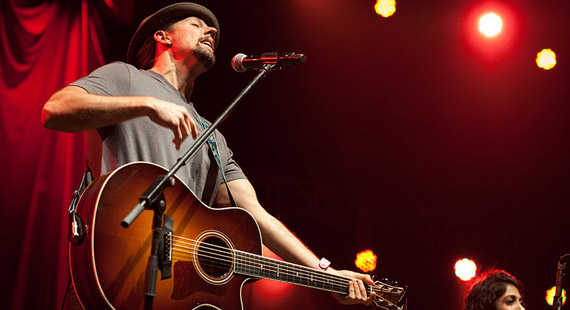 Mark Runyon | ConcertTour.org
Jason Mraz Lines Up Dates for World Tour
Jason Mraz has announced an extensive world tour that will keep him on the road for the majority of this year in support of his upcoming album, Love is a Four Letter Word.
Appropriately dubbed the "Tour is a Four Letter Word" tour, the trek will begin in Asia in June. After a July 1 date in Honolulu, the North American tour will kick off in full force on August 9 with a show at the Lakefront Arena in New Orleans. The tour will run all the way into October when Mraz plays the Red Rock Casino in Las Vegas on October 9.
Other cities the tour will hit include Dallas; Houston; Atlanta; Charlotte, N.C.; Detroit; St. Louis; Kansas City, Mo.; Vancouver, BC and Berkeley, Calif., among many others. After the last North American date, Mraz will take about a month off before heading to Europe for a tour that will take up most of November.
Love is a Four Letter Word will be released in the U.S. on April 17. The album was preceded by the single "I Won't Give Up" which was released this January. The song peaked at number eight on the Billboard Hot 100 songs chart. The album will be Mraz's first since 2008's We Sing. We Dance. We Steal Things. That album spawned the hit singles "Make It Mine" and "Lucky." Both songs won Grammy Awards, and the latter was a duet with pop singer Colbie Caillat.
The upcoming album is available for pre-order now on Mraz's official website, and comes in a variety of packages. If the standard CD is pre-ordered, fans will receive a special non-album digital track on the album's release date. The standard digital package will receive the same, though the deluxe digital package will come with an instant download of Live is a Four Letter Word, an EP of live recordings. The latter package also includes a demo of "I Won't Give Up."