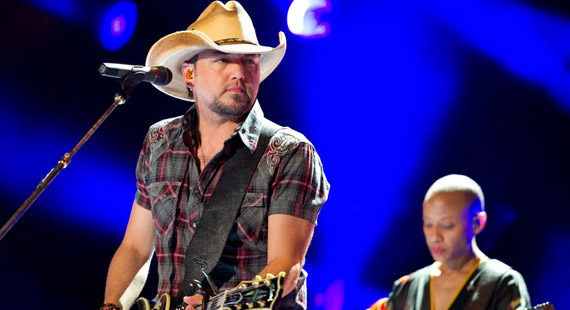 Helga Esteb | Shutterstock
Jason Aldean Sizes up Stadium Tour in 2013, Starting with Fenway Park
Jason Aldean has announced the initial dates for his stadium tour next year, including a history making stop at Boston's historic Fenway Park.
Aldean will become the first country singer to play at the home of the Boston Red Sox when he performs at Fenway Park on July 13, 2013. In addition to this date, Aldean will also become the first performer to ever hold a concert at the University of Georgia's Sanford Stadium in Athens, Georgia. This show will take place April 13, 2013.
The final date announced will be at the Chicago Cubs' Wrigley Field on July 20. Other dates will be announced later, and not all will be at stadiums. Aldean explained that these stadiums were chosen because they have special meaning for him.
"I didn't want to pick a handful of stadiums just to say we were going to play stadiums, I wanted to play places that were special to me," Aldean told TheBoot.com. "Iconic ballparks like Fenway and Wrigley, I'd much rather play somewhere like that than somewhere that's only been around for a year… Being from Georgia and being a big [University of] Georgia fan, this was number one on my list, but they've never had a show here, so it was one of those things, 'That would be really cool, but they've never done it before and I don't know if they'll let us do it.' It started from there, and big props to Live Nation and my management team for really getting the ball rolling and getting the University of Georgia on board with it. This is probably the most excited I've ever been about any of my shows."
Aldean visited Boston, Chicago and Athens, Georgia. on October 18 to announce the shows. Red Sox players David Ortiz, Dustin Pedroia and Jarrod Saltalamacchia appeared in a video when Aldean announced the Fenway show.