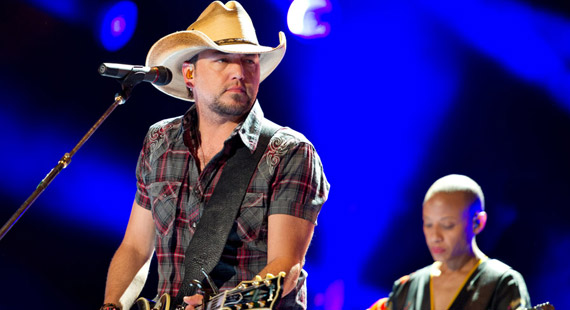 Mark Runyon | ConcertTour.org
Jason Aldean Kicks Off Summer with Florida Georgia Line on 'Burn It Down' Tour
Jason Aldean has just announced on "Good Morning America" that he's due to double down on his touring plans this year, launching a summer assault with Florida Georgia Line and Tyler Farr in tow.
The 'Burn It Down' tour launches May 1 and will see Aldean play almost 50 cities, including numerous stops in baseball stadiums.
Aldean's tour announcement answers the singer's week worth of cryptic clues revealed from his Facebook page. Among the clues were a picture of Screech from 'Saved by the Bell' (actor Dustin Diamond), fire, a baseball seat and a box of matches. He's partnered with Major League Baseball for the tour.
At present, the details of the tour are a little scarce, beyond the fact, of course, that it exists and excepting extenuating circumstances, will definitely happen.
That said, on Thursday afternoon, Aldean announced that Nationals Park in Washington D.C., Citizens Bank Park in Philadelphia, PNC Park in Pittsburgh and Great American Ball Park in Cincinnati were confirmed baseball stadiums for 2014.
The only confirmed dates thus far include shows in Roanoke, Virginia on May 1st, State College, Pennsylvania on May 2nd, Atlantic City on May 3rd, Baton Rouge, Louisiana on May 25th, Jacksonville, Florida on June 14th, and Twin Lakes, Minnesota on July 27th. Dates will be revealed in the coming months for shows in numerous other places, including Chicago, Toronto, San Diego, Detroit, Tampa and Houston, among others.
According to his spot on "Good Morning America", Aldean told host Robin Roberts that his baseball obsession came from his desire to become one professionally, but "the problem is, I didn't have any power."
Florida Georgia Line and Tyler Farr are long time road collaborators with Aldean, and both are currently on the 2014 Night Train Tour with Aldean.