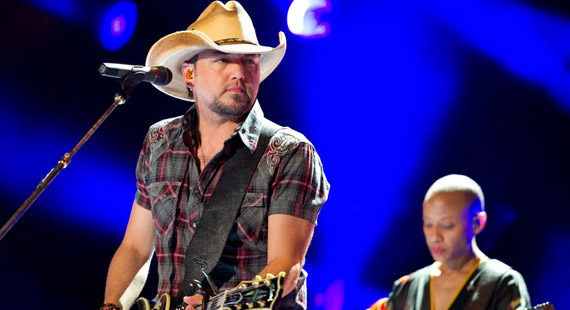 Helga Esteb | Shutterstock
Jason Aldean Hops Taylor Swift for Number 1 Country Album
After 14 weeks of taking the back seat to Taylor Swift's "Speak Now", Jason Aldean's "My Kinda Party" finally rules the Billboard charts, and it is not the only thing that keeps him happy these days.
With the Academy of Country Music Awards fast approaching, Aldean also racks up a couple of nominations, one for Male Vocalist and another for Entertainer of the Year, where he will go up against Swift, along with the other nominees, for the much coveted honor.
Aldean gushed about the achievements in a recent interview, saying "The last two weeks have been filled with early morning phone calls I never thought I'd get…first the ACM nominations for Male Vocalist and Entertainer of the Year, and then this morning to wake up hearing that we're at No. one on the Billboard chart…it's just incredible. Yeah, those are definitely the kinda early morning phone calls I don't mind getting!"
"Don't You Wanna Stay", a duet track from Aldean's current release with guest vocals from Kelly Clarkson, is also a chart ruler in its own right. The single currently dominates the Country Digital Singles charts as well as the iTunes Country Songs list after registering 57,000 downloads. While the album from which the track is taken is a certified platinum, the single is gold certified and is also making waves in radio stations nationwide.