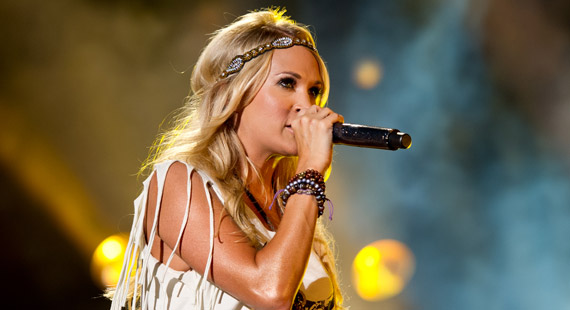 Mark Runyon | ConcertTour.org
Jason Aldean, Carrie Underwood, Eric Church Kick Off Austin's iHeartRadio Country Festival
iHeartRadio love country music so much that they've dedicated a whole festival to it.
The inaugural iHeartRadio Country Festival is due to take place on March 29th in Austin, Texas, and will feature music from country heavyweights like Luke Bryan, Carrie Underwood, Jason Aldean, Eric Church, Lady Antebellum, Florida Georgia Line, Hunter Hayes, Jake Owen. Additional acts are still to be announced.
"The  response to our country performers at the last three iHeartRadio Music Festivals was so incredible we decided to create an entire show just for them," John Sykes, president of Clear Channel Entertainment Enterprises, said in a statement. "It will be a country fan's dream and a testament to the power of country music and recognition of the stature of these artists."
As well as announcing the first round of acts set to play the festival, Clear Channel are also set to launch a contest at more than 120 Clear Channel stations across the nation through which fans will be able to win a trip to Austin to attend.
The festival will be streamed by Clear Channel and its stations for those who cannot make the trip to Austin.
Underwood also commented on how fun she's expecting the 2014 iHeartRadio Country Festival to be for fans and artists alike, saying, "It's going to be a big party for all of us."
"I've been lucky enough in my life to go to lots of different other genre concerts as a fan, and I think I would rather be in a country crowd than any other crowd, just because they're fun, they're singing along, they're dancing, everybody's cool to one another," she added.