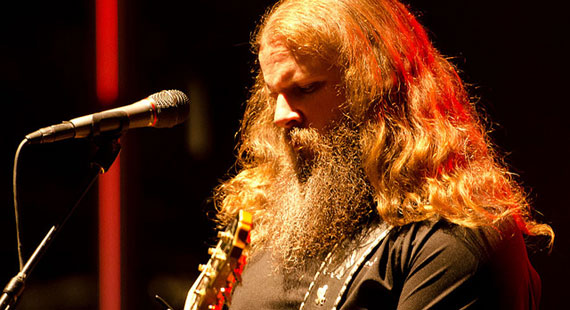 Mark Runyon | ConcertTour.org
Jamey Johnson Hits the Road Supporting Hank Cochran Tribute
Last week, Jamey Johnson released a tribute album to the late Hank Cochran and then staged an all-star tribute concert at Nashville's Ryman Auditorium. Now Johnson has announced a fall tour to support the album.
The trek will begin November 8 at the Tennessee Theatre in Knoxville, Tenn., and is scheduled to run through December 31 when the singer will perform a New Year's Eve show at the Montgomery Performing Arts Centre in Montgomery, Ala. In between those dates, Johnson also will visit Huntsville, Ala.; Paducah, Ky.; Columbus, Ohio; Indianapolis, Ind.; Chattanooga, Tenn.; Winnie, Texas; Miami, Okla.; Las Vegas and Wendover, Nev. More dates are expected to be added in the near future.
On select dates throughout the tour, Johnson will be accompanied by musicians Chris Hennessee and Wayne Mills.
Living for a Song: A Tribute to Hank Cochran was released October 16, and features Johnson along with some of the biggest names in country music covering songs written or co-written by Cochran. The title track is sung by Johnson, Kris Kristofferson and Cochran himself, with the recording done before he passed away in 2010. Johnson performs the song "Make the World Go Away," originally a hit for Eddy Arnold, as a duet with Allison Krauss. Other guests on the album include Elvis Costello, George Strait, Merle Haggard and Lee Ann Womack.
Cochran was 74 years old when he passed away, and had songs recorded by numerous stars since the 1960s. Among them are Ella Fitzgerald, Elvis Presley, Brad Paisley, Patsy Cline, Emmylou Harris, Dean Martin and Norah Jones.
Living for a Song is Johnson's first album since 2010's The Guitar Song, which debuted at number one on the Billboard country music albums charts and number four on the overall Billboard 200 album charts. That record includes the song "Set 'Em Up Joe," which was co-written by Cochran and originally made famous by Vern Gosdin.