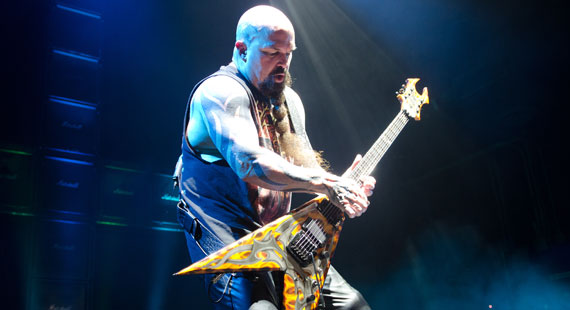 Mark Runyon | ConcertTour.org
Jagermeister Tour Signs on Slayer, Megadeath and Anthrax
Anthrax, Megadeth and Slayer will be touring the US this fall for a month's worth of arena shows for the Jagermeister Music Tour's 17th edition.
The three metal bands, who performed together for the first time during the "Clash of the Titans Tour" of 1991, will be kicking off their fall trek with a show in Dallas on September 24.  Twenty shows have been confirmed for the month long trek, including visits to New Orleans on September 28, Orlando on October 2, Salt Lake City on October 19, and in Las Vegas Vegas on October 20.  The tour will wrap up with a show in Universal City, CA on October 21.
According to the website for the event, ticket prices start at $10 and will be available during the coming weeks from Ticketmaster.  Fans, in the meantime, can register for a chance at winning backstage passes and VIP tickets at the tour website.
Megadeth and Slayer are planning to perform their releases from 1990: "Rust In Peace" and "Seasons In The Abyss," respectively, according to a recent press release, in their entirety.  Anthrax will also be on the tour and will be celebrating frontman Joey Belladonna returning to the group.  He performed with the band from 1985 to 1992, when he was fired.
Testament, Megadeth and Slayer currently are in the middle of "American Carnage Tour," performing in amphitheaters and arenas across North America.
2010 Jagermeister Concert Tour
August 2010
18 – Cleveland, OH – Tower City Amphitheatre ("American Carnage" tour w/ Testament)
19 – Detroit, MI – Joe Louis Arena ("American Carnage" tour w/ Testament)
20 – Chicago, IL – UIC Pavilion ("American Carnage" tour w/ Testament)
21 – Minneapolis, MN – Roy Wilkins Auditorium ("American Carnage" tour w/ Testament)
23 – Kansas City, MO – Cap Fed Park @ Sandstone ("American Carnage" tour w/ Testament)
25 – Denver, CO – Magness Arena ("American Carnage" tour w/ Testament)
26 – Albuquerque, NM – Tingley Coliseum ("American Carnage" tour w/ Testament)
27 – Phoenix, AZ – Dodge Theatre ("American Carnage" tour w/ Testament)
29 – San Diego, CA – Cricket Wireless Amphitheatre ("American Carnage" tour w/ Testament)
30 – Long Beach, CA – Long Beach Arena ("American Carnage" tour w/ Testament)
31 – San Francisco, CA – Cow Palace ("American Carnage" tour w/ Testament)
September 2010
1 – Sacramento, CA – ARCO Arena ("American Carnage" tour w/ Testament)
3 – Seattle, WA – WaMu Theatre ("American Carnage" tour w/ Testament)
4 – Portland, OR – Washington County Fairgrounds ("American Carnage" tour w/ Testament)
24 – Dallas, TX – Superpages.com Center (Jagermeister tour w/ Anthrax)
25 – San Antonio, TX – AT&T Center (Jagermeister tour w/ Anthrax)
26 – Houston, TX – Verizon Wireless Theater (Jagermeister tour w/ Anthrax)
28 – New Orleans, LA – Lakefront Arena (Jagermeister tour w/ Anthrax)
30 – Knoxville, TN – Knoxville Auditorium & Coliseum (Jagermeister tour w/ Anthrax)
October 2010
1 – Duluth, GA – The Arena at Gwinnett Center (Jagermeister tour w/ Anthrax)
2 – Orlando, FL – Hard Rock Live (Jagermeister tour w/ Anthrax)
3 – Miami, FL – Bayfront Park (Jagermeister tour w/ Anthrax)
5 – Hampton, VA – Hampton Coliseum (Jagermeister tour w/ Anthrax)
6 – Baltimore, MD – 1st Mariner Arena (Jagermeister tour w/ Anthrax)
8 – Uniondale, NY – Nassau Veterans Memorial Coliseum (Jagermeister tour w/ Anthrax)
9 – Scranton, PA – Toyota Pavilion at Montage Mountain (Jagermeister tour w/ Anthrax)
10 – Columbus, OH – Lifestyle Communities Pavilion (Jagermeister tour w/ Anthrax)
12 – Louisville, KY – Freedom Hall at The Kentucky Expo Center (Jagermeister tour w/ Anthrax)
14 – Fort Wayne, IN – Allen County War Memorial Coliseum (Jagermeister tour w/ Anthrax)
15 – Grand Rapids, MI – DeltaPlex Arena & Conference Center (Jagermeister tour w/ Anthrax)
16 – Milwaukee, WI – Eagles Ballroom (Jagermeister tour w/ Anthrax)
19 – Salt Lake City, UT- Maverik Center (Jagermeister tour w/ Anthrax)
20 – Las Vegas, NV – Pearl Concert Theater (Jagermeister tour w/ Anthrax)
21 – Universal City, CA – Gibson Amphitheatre at Universal CityWalk (Jagermeister tour w/ Anthrax)