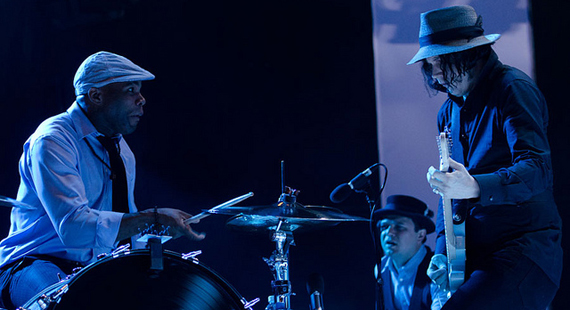 Mark Runyon | ConcertTour.org
Jack White, Skrillex Top Bill for Virgin Mobile Freefest
Jack White and Skrillex are among the top billed artists on the newly announced lineup for the 2012 Virgin Mobile FreeFest.
The festival, which will be held October 6 at Merriweather Post Pavilion in Columbia, Md, is advertised as the "largest annual free music event in the country," and fans can expect an eclectic lineup that also features The Dismemberment Plan, Alabama Shakes, M83, ZZ Top, Santigold, Ben Folds Five, Das Racist, Tramped by Turtles and Allen Stone on the main stage. A second stage, know as "The Dance Forest," will feature Above & Beyond, Porter & Zedd, Alvin Risk, Nervo, Thomas Gold and Penguin Prison. Other artists will be announced later.
Though the concert is free, fans must obtain tickets to attend the event, and 50,000 tickets to last year's event were gone within minutes of being released. This year, tickets will go "On Free," as they are advertised, to the public on August 24, though fans that follow Virgin Mobile Live on Twitter can take part in a presale that begins the day before.
As they have in the past, presenters encourage fans to donate to The RE*Generation. This charity is a campaign by Virgin Mobile to end youth homelessness.
"We've had a really big year at Virgin," said Ron Faris, who is head of brand marketing for Virgin Mobile USA. "Now it's time to celebrate. FreeFest is back – bigger than ever. We can't wait to share this free day of music with all our fans, especially the ones who helped us announce it."
Seth Hurtwitz, a producer of Freefest, commented on the notable headliners in the lineup.
"After three years of crazy press and feedback, bands start to line up early to be on the 'It-List,'" he said. "Fortunately, since the tickets go in minutes, we can wait until much later than most festivals to book the absolute best stories of the moment."