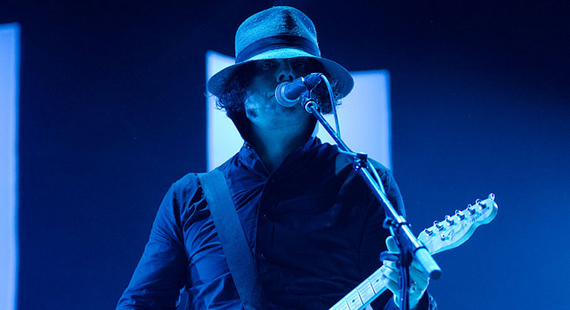 Mark Runyon | ConcertTour.org
Jack White Expands Tour to New York, Boston, Canada
Jack White has been touring pretty much continually since releasing his first solo album, Blunderbuss, back in April, including making the festival rounds throughout most of this summer. Now the former White Stripes frontman has announced a new set of dates for the fall that will find him touring all around North America.
The new dates begin September 28 with a show at the Agganis Arena in Boston, and will continue through his appearance at the Voodoo Experience music festival in New Orleans, which takes place October 26-28. In between those dates, White will take over Radio City Music Hall in New York for two nights (September 29-30), perform at L'Olympia in Montreal (October 2) and also undertake a two-night stand at the Sony Center for the Performing Arts in Toronto (October 3-4).
These dates are in addition to his previoualy announced appearances at the Virgin Mobile FreeFest on October 6 and the Austin City Limits Music Festival on October 13.
In other Jack White news, he recently appeared at the Grammy Musuem in Los Angeles for a chat with the museum's executive director, Robert Santelli. It was no surprise that White advocated the use of vinyl records during the talk, since he has recently set about providing new advancements in the medium with his label, Third Man Records.
"(Using a turntable) is a good thing for parents to show their kids," White said, according to the Hollywood Reporter. "It involves you immediately in the music. Your involvement in the media, romantically, can't be touched. If you said play a track and pushed a button on an iPod, there's absolutely nothing romantic about that. Pull out a record and are you not immediately more engaged? I relish the idea of showing a kid how to put a needle on a record."
White also revealed that there is a hidden track under the label of vinyl copies of his band the Dead Weather's Sea of Cowards album, but that he had trouble removing the label to play it.