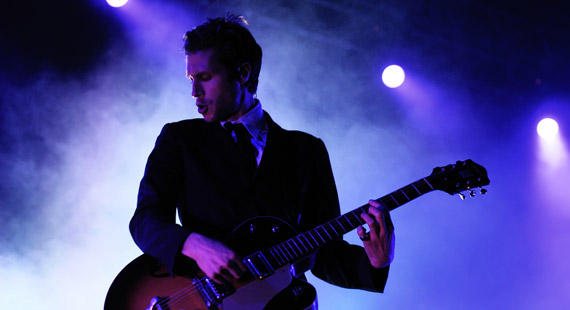 Christian Bertrand / Shutterstock
Interpol Frontman Hits Northeast, California on Upcoming Tour
Interpol hasn't released an album in over two years now, but you'll soon be able to catch the group's frontman, Paul Banks, playing shows to support his new solo album.
Banks will head out on the road starting November 13 with a show at the Fun Fun Fun Fest in Austin, and will continue to tour through December 5 when he performs at the Fonda Theatre in Los Angeles. In those dates, he also will hit Washington, D.C.; Philadelphia; New York; Las Vegas; Santa Ana, Calif.; San Francisco and San Deigo.
Banks will use the dates to support his second solo album, which he has appropriately titled Banks, that will be released October 23 on Matador Records. This title is pointed out as appropriate because Banks' debut solo album was recorded under the name Julian Plenti. That record, titled Julian Plenti Is… Skyscraper, was released in 2009. He also released a five-song EP called Julian Plenti Lives… in June of this year, but now it would seem that perhaps that title is misleading.
After the U.S. tour, Banks will take a break for the holidays at the end of the year and then begin an extensive tour of Europe set to begin in Dublin on January 20 and run through February 15, when he will appear in Athens, Greece. Banks also will visit  London, Frankfurt, Vienna, Prague and Paris on the tour, among other cities.
Interpol's most recent album was a 2010 self-titled effort, which is the group's fourth studio album. The group toured for the record for about a year, and reported afterward that they needed a break.
In an interview with Gigwise, the group's drummer, Sam Fogarino, said it was time for a break.
"We need a big break," he said. "Interpol needs it. We need to recoup and go on a proper hiatus."