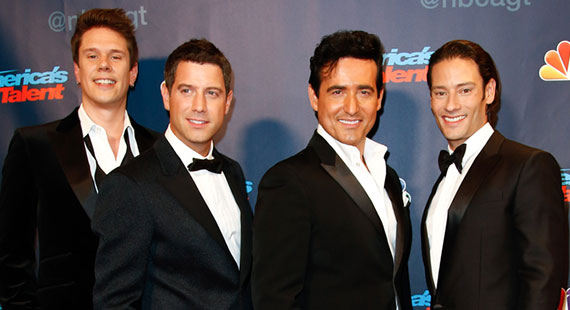 s_bukley / Shutterstock
Il Divo Set Initial Leg of 2012 World Tour
Multi-national vocal group Il Divo announced Tuesday that it will embark on a 2012 world tour. And they mean world tour in the literal sense of the phrase, with plans to perform on every continent except Antarctica next year.
Formed by Simon Cowell in 2004 (and signed to the former American Idol judge's own record label, Syco Music) as an homage to the Three Tenors, the group features four male singers from Switzerland, Spain, France and the United States, respectively. True to their multinational label, the quartet's songs are sung in Swiss, Spanish, French, English and Latin.
With barely over half a decade under their collective belt, the group has put together quite the respectable résumé, selling over 26 million albums worldwide and performing with the likes of Barbara Streisand, Celine Dion and Toni Braxton.
The tour will support the group's fifth album, Wicked Game, set to be released on November 28 of this year—the first since The Promise was released back in 2008.
Thus far, only dates for the European leg of the tour have been announced, beginning with the March 24, 2012 opener in Stockholm, Sweden and consisting of 25 shows that will conclude on April 28 in Lisbon, Portugal. The website promises new dates will be added in the "near future," and that all shows will feature tracks from Wicked Game as well as older fan favorites.
Il Divo, which means "divine male performer" in Italian, is sometimes labeled as "Popera," referring to the group's unique combination of pop and classical music. Of the four members, there are two classically trained tenors, one baritone and a pop singer. They've been called Simon Cowell's muppets, referring to his role creating the band and his continued influence, but it was on their own merits that they earned the first ever "Artist of the Decade" award at this year's Classic Brits, Britain's awards show honoring excellence in classical music.
If a history of sold-out tours and number one albums is any precedent, both the forthcoming tour and album will be more successes for the popular group.