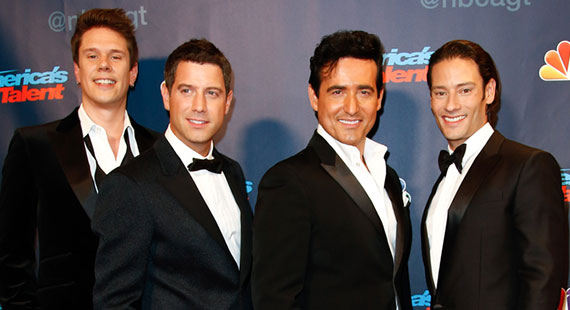 s_bukley / Shutterstock
Il Divo Adds American Concert Dates to World Tour
Recently, multi-national vocal group Il Divo announced the initial European leg of what they promised to be an extensive world tour. Now, they've already expanded the tour, adding 27 U.S. dates.
The tour will start with a two-night stand at New York's Beacon Theatre on May 29 and 30, and will continue through August 19, ending at the Wells Fargo Center in Denver, Colo. The singers will also hit Boston, Philadelphia, Seattle and Washington D.C., among other cities.
What's more, the group will join up with an orchestra in every city they play, a move designed by famous creative director Brian Burke.
All of this comes as the group's fifth studio album, Wicked Game, hit stores on Tuesday. No word has come in yet on how many sales the album has racked up so far, but if precedent is any indication, it is probably a very large number—the group has already sold more than 26 million albums since forming in 2004.
Simon Cowell formed the group in 2004, and the international group features four male singers from Switzerland, Spain, France and the United States. Cowell has said he put the group together as an homage to the Three Tenors. Il Divo means "divine male performer" in Italian, and the group has been labeled "Popera," referring the combination of pop and classical music they have become known for.
Wicked Game is the first album by the group since they released The Promise in November 2008. That album peaked at number one on the Billboard Classical album charts, and stayed in the top 10 for 43 weeks. The title track of Wicked Game is a reworking of the same song by Chris Isaak, and the album also includes covers of Roy Orbison's "Crying" and Sarah Brightman's "Time to Say Goodbye."