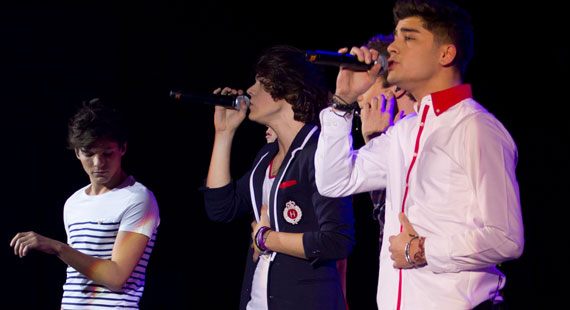 waynehowes | Shutterstock
How One Direction Conquered The World Through Social Media
The approach to cracking the American market for any international act used to consist mainly of visiting every local radio station that would give them airtime. This would be a lengthy and arduous promotional period that would take weeks, sometimes months, often with little commercial reward.
And yet before they had even stepped foot inside the States, teen-pop phenomenon One Direction had already become the ultimate pin-ups for a large section of tween and teenage girls across the country. Indeed, over 10,000 fans descended on Rockefeller Center for the group's first ever televised performance on NBC's The Today Show, while after just two weeks of airplay, the group's debut single, "What Makes You Beautiful," became the highest debut for a British act in fourteen years.
Their unprecedented rapid success can be attributed to a tool that wasn't available for most of their boyband predecessors – social media. Managing to accomplish more in a matter of months than the likes of Take That, Westlife and Boyzone had achieved in their whole careers, the group had utilized the likes of Twitter, Tumblr and YouTube to become household names in areas of the globe they had probably never even heard of, let alone visited.
It was a remarkable turn of events considering the quintet hadn't even existed 18 months prior. Auditioning as solo artists for the 2010 series of The X-Factor, Niall Horan, Louis Tomlinson, Harry Styles, Liam Payne and Zayn Malik were then put together on the advice of guest judge Nicole Scherzinger, eventually finishing third behind winner Matt Cardle and Rebecca Ferguson.
But they soon dwarfed their fellow talent show finalists' success by giving their increasingly expanding fan base access into both their personal and professional lives in a virtually obsessive manner. In fact, although a team are employed specifically to build up their web presence, each member is in control of their own Twitter page, helping to create the illusion that they are constantly close to their followers.
By the time they became the first British act to debut at No.1 in the US with their first album, Up All Night, they had accrued four million Facebook likes and were gaining an average of 20,000 new Twitter followers a day, while over 330,000 photos of the band were available on image-sharing site Instagram.
Despite manager Will Bloomfield admitting that the band 'live online,' even Syco chief executive Sonny Takhar appeared bewildered by just how instrumental social media had been in their rise to fame, telling The Guardian that the tool had never broken an act globally in this way before.
Understandably, the band have continued to take advantage of their hugely visible online profile, regularly teasing details of the recording of second album, Take Me Home, on Twitter, announcing the release of comeback single, "Live While We're Young," with a specially recorded YouTube promo, and unveiling various behind-the-scenes photos on Instagram.
The power they have on the social media community was confirmed when Malik, Styles and Tomlinson were named as three of the top five most-tweeted about celebrities in 2012. Styles' message of thanks after winning three MTV Video Music Awards and Horan's 2nd anniversary celebration were revealed as the third and fifth most-retweeted posts of the year respectively, while the group also achieved the biggest percentage increase in followers. Malik's brief exit from Twitter after becoming fed up of receiving abuse about his relationship with Little Mix's Perrie Edwards even made headline news across most entertainment sites until he returned just a few days later.
At the time of writing, the band's official Twitter feed is followed by close to fifteen million people, whilst each member's personal pages are followed by a similar number, an overall figure of 68 million which dwarfs the 44 million of Justin Bieber, currently the single most-followed celebrity on the social networking site, and almost double the figure of President Barack Obama's.
A whole host of teen-oriented acts will no doubt attempt to use the same method to ensnare worldwide audiences, but it's unlikely that any will ever achieve the same staggering results seen by One Direction.