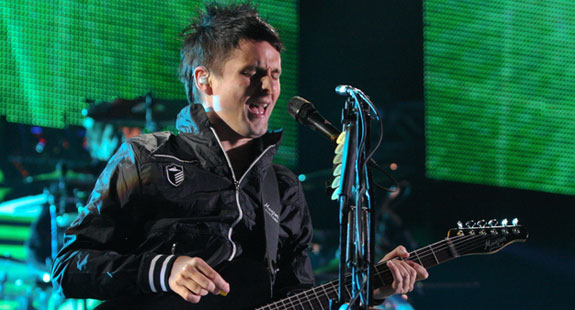 Mark III Photonics | Shutterstock
How Muse Helped To Bring Prog-Rock Back Into Fashion
Pink Floyd, Jethro Tull, Van Der Graaf Generator, Emerson Lake & Palmer, Supertramp – during the 70s, you couldn't move for prog-rock bands clogging up the album charts. But after the emergence of back-to-basics punk-rock made the concept of weird elaborate costumes, Tolkien-esque lyrics and 15-minute keyboard solos appear too much trouble, the genre became a code-word for pure nerdy nonsense.
It didn't disappear completely. Yes, Genesis and Asia reinvented themselves as more commercial pop/rock outfits, newer acts such as Marillion and Porcupine Tree built up loyal cult followings throughout the 80s & 90s, while the founding of the Swedish Art Rock Society inspired a Third Wave of metal-oriented prog-rockers including Dream Theater, White Willow and Opeth.
But its success was pretty much confined to the underground until Matt Bellamy, Christopher Wolstenholme and Dominic Howard arrived on the scene as Muse. Initially, there wasn't that much to set them apart from the wave of alt-rock bands that had appeared before them. 1999 debut Showbiz was compared to the early output of its producer John Leckie's most famous cohorts, Radiohead, whilst most of its twelve tracks touched upon personal issues rather than the folklore tales usually associated with prog-rock.
Playing around with complex time signatures and an array of unusual instruments including a pipe organ, a Mellotron and a custom-built super-sized drum-kit, 2001 follow-up Origin Of Symmetry first showcased their prog tendencies, whilst Bellamy's winding solos instantly elevated him to Guitar Hero status.
But it was with 2003's Absolution that the band really began to push the envelope, venturing into symphonic rock ("Butterflies & Hurricanes"), neo-classical ("Blackout") and electro ("Endlessly") while increasing the band's intensity and heaviness and addressing apocalyptical concepts such as the Iraq War, a bravely ambitious move which reaped rewards when the album entered the UK charts straight at number one.
By 2006's Black Holes and Revelations, they'd been joined by a new array of acts who weren't ashamed to embrace their prog-leanings. Formed from the ashes of At The Drive-In, The Mars Volta were even more idiosyncratic, lurching from post-hardcore to jazz fusion to psychedelia, often within the confines of one song, while Jared Leto's 30 Seconds To Mars, Danish quintet Mew and New Yorkers Coheed & Cambria were also helping to revive the sound's commercial fortunes.
Perhaps unwilling to give up their throne, the trio went more overblown than ever, tackling sci-fi/fantasy themes such as alien invasions and New World Order conspiracy theories, whilst also gaining a reputation as one of the most extravagant live acts thanks to their accompanying tour's futuristic set containing satellite dishes, futuristic antennas and floating acrobats, in addition to a series of lasers and pyrotechnics which they have since become renowned for.
Three years later, The Resistance not only earned the approval of Queen's Brian May ("extraordinary musicians who let their madness shine through") but also audiences Stateside, peaking at No.3 in its first week and later scooping a Grammy Award for Best Rock Album. More classical-oriented than their previous work, the record was most notable for a sprawling 12-minute suite symphony entitled "Exogenesis." But its resulting show was even more bombastic, taking place on a pyramid-shaped stage inspired by George Orwell's 1984 that also featured a giant All Seeing Eye ball, various moving LED structures and an elephant lift which transported the band into the audience during renditions of "Undisclosed Desires" and "Take A Bow."
Just when it seemed impossible for Muse to go any more overblown, Bellamy teased their sixth studio effort, The 2nd Law, by jokingly describing it as "a Christian gangsta rap jazz odyssey, with some ambient rebellious dubstep and face-melting metal flamenco cowboy psychedelia." He wasn't too far off. Featuring dubstep maestros Nero and Stevie Wonder's former backing band, two lead vocals from bassist Wolstenholme and inspired by the likes of Justice, David Bowie and Michael Jackson, the record was by far the most eclectic and adventurous of their career.
It will be interesting to see if they can push the boundaries any further with their next record. But even if they revisit the more conventional indie-rock of their debut, they're undoubtedly responsible for introducing the world of prog to a whole new generation.