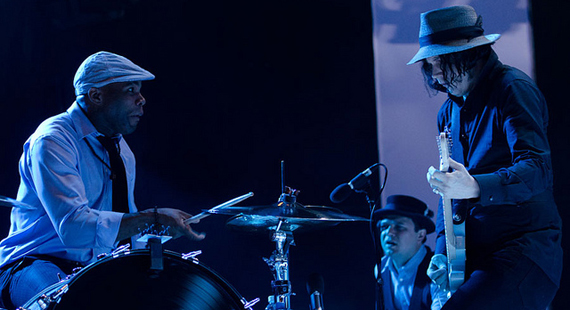 Mark Runyon | ConcertTour.org
Guns N Roses, Jack White, Neil Young on Tap for 2012 Bridge School Concert
Jack White, Guns N Roses and Neil Young are on tap to headline this year's Bridge School Benefit Concert.
The annual event will be held at the Shoreline Amphitheatre in Mountain View, Calif. on October 20-21. Other notable artists appearing at the festival include Flaming Lips, Gary Clark, Jr., Lucinda Williams, Steve Martin and the Steep Canyon River Band, k.d. Lang, Foster the People, Sarah McLachlan and Siss Boom Bang.
The concert series is notable for it's tradition of consistently building stellar lineups and performing hits only on acoustic instruments. This will be the 26th annual concert benefiting the Bridge School.
The concert was launched back in 1986 by Young and his wife Pegi to benefit the Bridge School, which "is a non-profit organization whose mission is to ensure that individuals with severe speech and physical impairments achieve full participation in their communities," according to the group's official website.
The concert has been held every year since it was founded except 1987, which was the year the educational program was launched. Since that time, performers have included some of the best known musicians in the world, including Tom Petty, Bob Dylan, Elvis Costello, R.E.M., Pearl Jam, Paul McCartney, Metallica, Tom Waits and Lou Reed. Neil Young has performed at every Bridge School Concert.
In other Neil Young news, he announced late last month that he and Crazy Horse will release their first album of original  material since 2003 sometime in October. Psychedelic Pill is a double album, and features songs previewed by the band during their current tour that began in August. The set follows Americana, the album by Young and Crazy Horse released earlier this year that is a collections of covers of traditional American songs.
"It's us jamming and having lots of fun," Crazy Horse guitarist Frank "Poncho" Sampedro told Rolling Stone about the album.