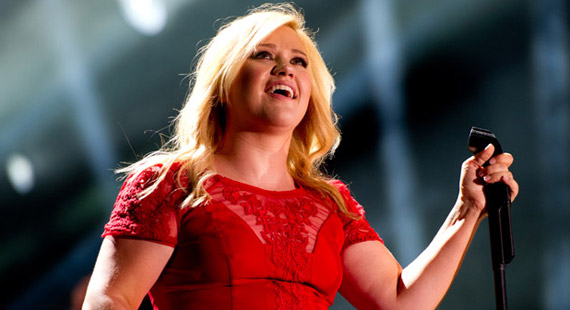 Mark Runyon | ConcertTour.org
Grammy Nominations Pass Over Bieber, Springsteen for Miguel, Clarkson
The nominations for the 2013 Grammy Awards were announced Wednesday night at a primetime concert special broadcast from Nashville's Bridgestone Arena, and there were quite a few surprises on the nominations list.
One of the biggest surprises was the absence of any nominations for Justin Bieber, who released his third studio album this June. Bieber's manager Scooter Braun quickly took to Twitter to voice his displeasure.
"I just plain DISAGREE," he wrote on his Twitter account. "The kid deserved it. Grammy board u blew it on this one." The following day, he took to Twitter again to explain his comments.
"I wasn't mad, just voicing my opinion," he wrote. "I saw a lot of chatter online and made a comment. I don't think there was anything wrong with any other nomination. I just felt Justin deserved to be acknowledged."
A slew of artists tied for the most nominations with six. These include Mumford and Sons, fun., Dan Auerbach (of the Black Keys), Kanye West, Jay-Z and Frank Ocean. The latter, a member of the Odd Future collective is perhaps the most surprising of the top nominated artists. His breakthrough solo album Channel Orange was released in July.
Newcomer Miguel picked up five nominations this year, including Song of the Year for his hit "Adorn." "American Idol" Kelly Clarkson was nominated for Best Pop Vocal Album for her 2011 effort Stronger.
Many were surprised that Bruce Springsteen received no nominations for Wrecking Ball, his well-received 17th studio album that was released earlier this year – but this year's nominations trended toward being awarded to younger artists. These included Carly Rae Jepsen who racked up two nominations for her massive summer hit "Call Me Maybe": Song of the Year and Best Pop Solo Performance.
The nominations concert was hosted by Taylor Swift and LL Cool J, who opened the night with a duet performance. Other artists performing during the event included Maroon 5, Luke Bryan and The Band Perry.