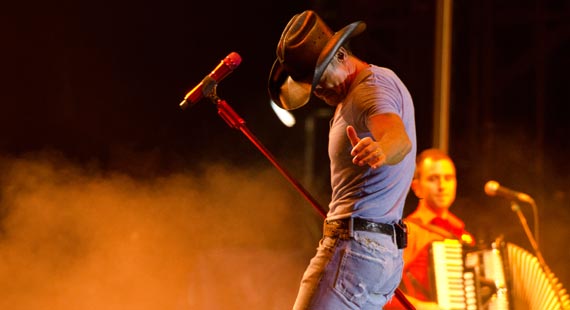 Mark Runyon | ConcertTour.org
George Strait, Tim McGraw, Zac Brown Fill Out 2013 Houston Rodeo Line Up
The 2013 Houston Livestock Show and Rodeo will have a wide variety of artists providing musical entertainment, including George Strait, Tim McGraw and Zac Brown Band.
But the rodeo is not just catering to country music fans – other notable acts performing include Pitbull, Bruno Mars, Mary J. Blige, Styx and Demi Lovato. The later artist was announced in the first round of artist announcements back in November, which also included Toby Keith and Jason Aldean.
Toby Keith will kick off this year's event on February 25, and the Houston Rodeo consists of 21 events taking place through March 17 at the city's Reliant Stadium. All days also have rodeo aspects other than the final day of the event, which will be a concert-only performance by George Strait, Martina McBride and the Randy Rogers Band.
Season tickets range from $361 to $6,125 depending on seat location, and these include admission to the final George Strait concert – season tickets can be purchased without this option, as well. Mini-season ticket options also are available, and include admission to nine days of the rodeo (but not the final concert). Tickets to individual rodeo events start at $18.
This is the 81st year of the rodeo, and an estimated 2,257,970 people attended the event last year. The official website of the event also reports some interesting culinary factoids from last year.
"During the show, visitors ate 50,000 pounds of potatoes, 23,000 cinnamon rolls, 10,000 orders of chicken fried bacon and 9,000 pounds of shrimp," states the website. I'm glad there were over 2 million people there, or those numbers would be ridiculous.
In other news, the Houston Livestock Show and Rodeo is buying half of what used to be Six Flags AstroWorld, which is located near Reliant Park and is typically used for tailgating during Houston Texan games, which are played at Reliant Stadium.
"Immediately, we know we can park there…" said Rodeo Houston chief operating officer Leroy Shafer of the reasoning for the land purchase. "We can do some improvements to the parking that will help us more with the inclement weather."