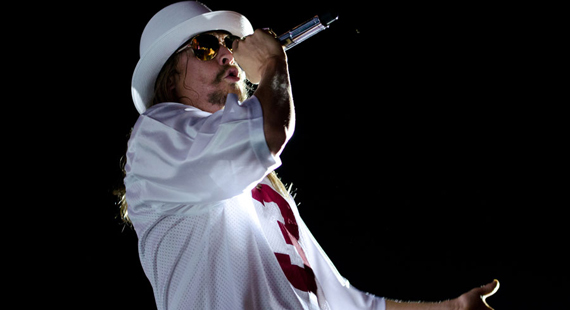 Mark Runyon | ConcertTour.org
Garth Brooks, Kenny Chesney, Kid Rock Help George Jones at Farewell Concert
George Jones has just announced the final dates of his farewell tour, which will culminate with a star-studded event in Nashville.
On November 22, Jones will appear at the Bridgestone Arena in Nashville, along with Garth Brooks, Kenny Chesney, Kid Rock, Randy Travis, Kenny Rogers, Oak Ridge Boys, Jamey Johnson, Tanya Tucker, Shelby Lynne, Sam Moore, Lorrie Morgan, Charlie Daniels, Gene Watson, Josh Turner and Dierks Bentley. More stars will be announced before the concert.
"Being joined by so many incredible singers while doing what I love will be truly heartwarming," Jones said in a press release. "It's shaping up to be more than I expected or could have ever imagined."
But first, Jones will undertake his final tour, "The Grand Tour." Kicking off March 15 at the Rialto Square Theater in Joliet, Illinois, Jones will hit many areas of the U.S. before that last Nashville show. Other cities he will visit including Fairfax, Virginia; Charlottesville, Virginia; Lancaster, Pennsylvania; Midland, Texas; Rome, Georgia; Bossier City, Louisiana; Myrtle Beach, South Carolina; Biloxi, Mississippi; Branson, Missouri and Bowling Green, Kentucky.
According to the statement announcing the tour, Jones also intends to release one more studio album, which he is currently working on with Dolly Parton. Though no official release date has yet been released, he did recently speak to Billboard about the album.
"I love Dolly, always have and I am so honored to be doing a project with her," he said in the interview. "She is writing most of the songs and we all know what a great songwriter she is. I am just waiting for her to tell me what to sing and when to sing it!"
He also calls his retirement "bittersweet."
"It is a little bittersweet," he said. "I have been blessed to do what I love for all these years and when I return to places that I know I will be performing for the last time it makes me a little nostalgic and sad. I will surely miss my fans and the good people I have met along this journey."