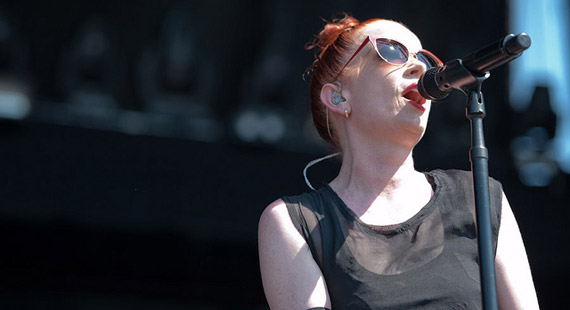 Mark Runyon | ConcertTour.org
Garbage Line Up Winter Concert Tour
Garbage will spend most of the first half of 2012 on the road, and has just announced new North American dates.
Shirley Manson and Company will hit the road starting in New York at Terminal 5 on March 22, and will continue touring at least through an April 12 concert at the Pearl Concert Theater in Las Vegas. In between those dates, the group will visit Boston, Montreal, Toronto, Detroit, Chicago, Milwaukee, Madison, and St. Louis, among others.
The group's Madison show will be a homecoming event, and will be the second time the band has played the city since ending their lengthy hiatus. Garbage played the first-ever Pondamonium music festival at the city's Warner Park last summer, performing in the city for the first time in seven years. This year they will headline a show at the Orpheum Theater.
The Milwaukee date will be the first time the group has played that city in five years. The show will be at Rave on April 6.
The new tour will continue to support the band's fifth album, Not Your Kind of People, which was released last year as the group's first release since 2005's Bleed Like Me. Previous to the new album, the band spent 2008-2010 on hiatus, but guitarist Steve Marker told the Cap Times in Madison, Wisconsin last year that the reunion is working well.
"We have a certain chemistry that only happens with the four of us," said Marker. "And it was fun to know that was still there."
Before heading to North America, Garbage will spend some time in New Zealand and Australia. The group will perform as part of the traveling Soundwave Festival tour in late February and early March, and also will headline shows in Wellington and Auckland, New Zealand as well as in Sydney, Australia.