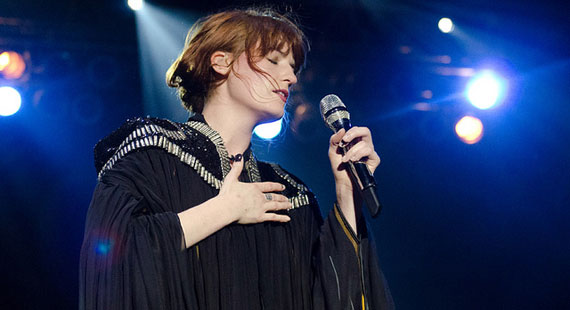 Mark Runyon | ConcertTour.org
Florence and the Machine Take Off on UK Arena Tour
Florence and the Machine will spend the first part of December playing shows in huge arenas around the UK.
The short arena tour will kick off December 4 at the Exeter Westpoint Arena, and the trek is scheduled to continue through December 12 when the band performs at the O2 Arena in Dublin. Additionally, she will play two nights at the O2 Arena in London (December 5-6), and will also play the Coventry Ricoh Arena (December 8), the Aberdeen AECC (December 9) and the Liverpool Echo Arena (December 10).
Two of the dates above were not included in the original announcement of the tour, though there has been no official word if any more dates will be revealed in the future. The group will be joined by special guests Haim for all shows.
It may be unlikely that many more shows will be added, as band singer and namesake Florence Welch sustained a vocal injury that forced a few festival appearance cancellations earlier in the summer. She seems to be attempting to take it easy. She recently spoke to AOL's Spinner and revealed what life is like on the current tour.
"We haven't been drunk in three, maybe four weeks, which really just means less blowouts," she told the website, though she said health concerns weren't the only factor in this lifestyle.
"Touring just takes over everything…" she continued. "I mean, it's really organized in every way possible, but you can't deal with anything; nothing gets dealt with in your real life and you only get to be home for two weeks at a time."
Of course, the question on many fans' minds is when the group will release a new record, which would be the first since the band's sophomore album, Ceremonials, was released last October.
"I've been thinking about it a lot," Welch said. "I think I've written a whole album in my head."