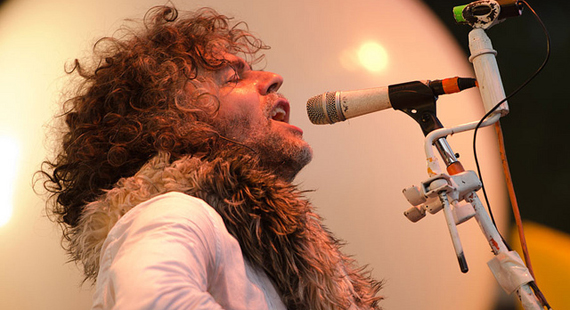 Mark Runyon | ConcertTour.org
Flaming Lips Pucker Up for Spring Concert Dates
Quirky rockers Flaming Lips will be hitting the road this month in support of last year's release 'Embryonic.' The band will launch the tour on March 12 in Austin, Texas and carry through to the end of March before taking on some summer festival dates including Bonnaroo. Opening duties for the coming tour have fallen to Stardeath and the White Dwarfs whose lead singer just happens to be nephew of Flaming Lips frontman Wayne Coyne.
The Flaming Lips latest original album 'Embryonic' was a double album, recorded with Dave Fridmann. In December, they also released a remake of Pink Floyd's 'Dark Side of the Moon' which included vocals from the likes of Peaches and Henry Rollins. Originally, the work was only available in digital format, but the band has plans for a vinyl release on April 17 and to CD shelves May 4.
The full Flaming Lips tour schedule is listed below.
2010 Flaming Lips Concert Tour
March 2010
12 – Austin, TX – Austin Music Hall
13 – Denton, TX – Hickory Street Stage
15 – Charlottesville, VA – Charlottesville Pavilion
17 – Poughkeepsie, NY – Mid-Hudson Civic Center
18 – Ithaca, NY – Cornell University
19 – Montclair, NJ – Wellmont Theatre
21 – Milwaukee, WI – Riverside Theater
22 – Bloomington, IN – Indiana University Auditorium
23 – Kansas City, KS – Sandstone Amphitheatre
May 2010
15 – Gulf Shores, AL – Hangout Music Festival
June 2010
6 – Houston, TX – Free Press Fest
11 – Manchester, TN – Bonnaroo Music Festival
July 2010
3 – Oxford, ME – Nateva Music & Arts Festival
22 – Lewiston, NY – Artpark
26 – New York, NY – Central Park Summerstage