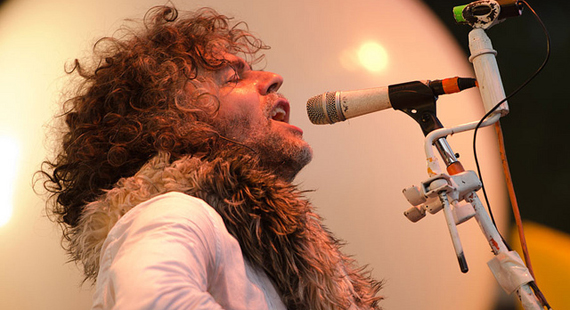 Mark Runyon | ConcertTour.org
Flaming Lips, Grizzly Bear Take to Aircraft Carrier for Colbchella 2012
Stephen Colbert is no stranger to music festivals since he hosted the StePhest Colbchella last year, but now he's got some surprises in store for the second year of the festival.
Like many recent festivals, Colbert is moving his event onto a ship, but of course not just any cruise liner will do for Colbert. No, he is holding his festival on the U.S. Intrepid, a retired World War II aircraft carrier currently docked in New York's Hudson River. He's also booked a stellar lineup, including Flaming Lips, Grizzly Bear, Santigold, fun. and Grandmaster Flash. The latter will serve as the "Official Cobchella Aircraft Carrier DJ."
"We are gonna rock the boat, which won't be easy because the Intrepid displaces 41,434 tons." Colbert told his studio and television audience during the announcement during "The Colbert Report" on Tuesday night. "Does Bonnaroo have cruise missiles? I think not."
The event will be held on August 10. The Intrepid is now officially known as the Intrepid Sea, Air and Space Museum. Approximately 1,500 fans will be allowed on the boat, and tickets are free, but must be obtained through the official "Colbert Report" website. As of this writing, the site states that tickets are not available, but advises those that want tickets to check back soon.
Last year's StePhest Colbchella event was a week-long music fest (held on land, in the show's studio) that featured Jack White, Florence and the Machine, Bon Iver and Talib Kweli. That event was official known as "StePhest Colbchella '011: Rock you Like a Thirst-Icane."
This year's event will also be integrated with "The Colbert Report," as the performances by each act will be shown on the show during the week of August 13. Colbert will also interview the acts and show the talks on the show.