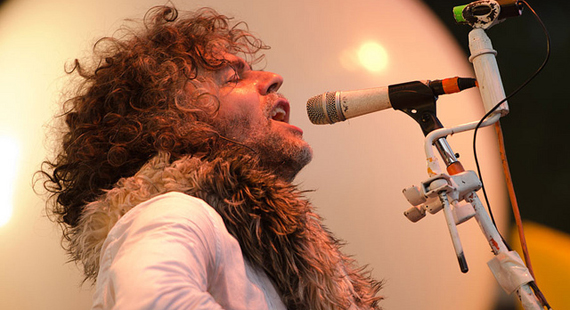 Mark Runyon | ConcertTour.org
Flaming Lips Break World Record, 8 Shows in 24 Hours in Different Cities
Well… they said they were going to do it, and now they've done it. The Flaming Lips successfully set a Guinness World Record for the most concerts performed in multiple cities in a 24-hour period at eight.
The 24-hour period began Wednesday in Memphis, and the band's bus, which is appropriately called Endeavor, took them around the southeast region where they performed eight concerts in eight different cities. This broke the previous record of seven, which was held by Jay-Z.
The trek was all a part of the O Music Awards, which distributed 24 awards during the Lips trek – one every hour. This year represented the third year of the awards, and was screened live on the official website of the show, as well as on mobile devices. The show is described as "Offbeat, outrageous, online. The O Music Awards spotlights the very best in digital music." Awards presented, as the site points out, range from "Must Follow Artist on Twitter" to "Best Music Hack" to "Digital Genius."
After leaving Memphis, the one-day "tour" visited Clarksdale, Miss; Oxford, Miss.; Jackson, Miss.; Hattiesburg, Miss.; Biloxi, Miss.; Baton Rouge and New Orleans. Throughout the way, the Flaming Lips performed with an eclectic list of special guests.
These guest ranged from Grace Potter performing a rendition of Led Zepplin's "Song Remains the Same" with the band in Oxford to Jackson Browne joining the group to help them perform his own hit "These Days" in Hattiesburg. Hunter Hayes also showed up in Hattiesburg, and Neon Indian performed a cover of David Bowie's Heroes in Jackson. Other guests include Neon Trees, Gary Clark, Jr. and New Fumes.
The Flaming Lips will spend the majority of July making the European festival rounds, but will return to North America for a few late July and August festival dates.