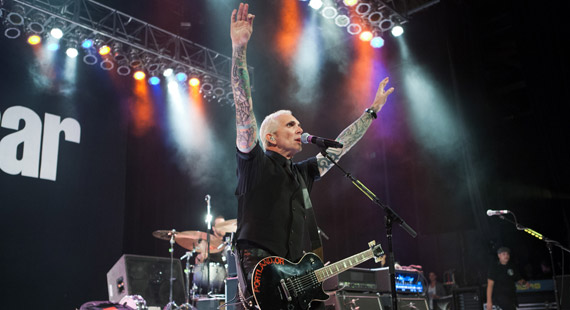 Harmony Gerber / Shutterstock
Everclear, Live, Filter Head Out on 90s Summerland Tour
Everclear, Live and Filter will headline this year's version of the Summerland Tour.
The tour, which also includes the band Sponge, is appropriately subtitled "Alternative Guitars," and kicks of May 29 at the Lee County Civic Center in Fort Meyers, Fla. The extensive tour will then run through July 26, when all the 90s rockers close out the trek at the Cricket Wireless Amphitheatre in Kansas City, Mo. Other cities on the schedule include Charlotte, N.C.; Jim Thorpe, Penn.; St. Paul, Minn.; Bakersfield, Calif.; Lake Charles, La.; Tempe, Ariz. and Port Chester, N.Y.
"Last year's Summerland was a blast," said Everclear frontman Art Alexakis in a statement. "This year, we've brought a decidedly edgier flavor bill to satisfy all of the fans of Nineties rock & roll out there. It's going to be an amazing summer night every night on Summerland 2013: Alternative Guitars."
The 2012 incarnation of the tour included Sugar Ray, Lit, the Gin Blossoms and Marcy Playground along with Everclear. Sugar Ray frontman Mark McGrath told Rolling Stone that he and Alexakis "have different ideas about what the tour is about… He's doing his own thing now."
Everclear is still supporting their most recent album, Invisible Stars, which was released in June of last year. The album is the group's eighth studio record, and when it came out was the first new music from the band since 2006's Welcome to the Drama Club.
Though the tour brings a wave of 90s nostalgia, it should be noted that the band's aren't quite the same as they were in their 90s heyday. Alexakis is the only original member of Everclear, and the singers for both Filter and Sponge are the only original members of those bands remaining, as well. Live, however, is touring without former frontman Ed Kowalczyk, though the rest of the band is the original lineup, plus new singer Chris Shinn.