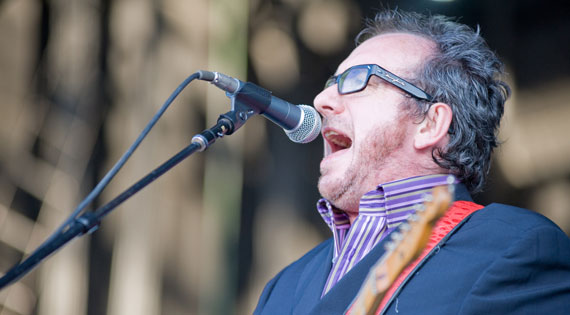 Randy Miramontez | Shutterstock
Elvis Costello Fires Up Tour Dates Behind 'Wise Up Ghost'
Ahead of the release of his new album Wise Up Ghost with the Roots, Elvis Costello has just announced a slew of headlining tour dates marking his first solo jaunt around the East Coast in ten years.
The Elvis Costello – SOLO (that is with uppercase letters, yes) Tour kicks off in Burlington, VT on November 2nd at the Flynn Center and sees Costello play dates in Massachusetts, New Jersey, New York, Connecticut, Pennsylvania, then he's gonna go back to some of those places for more dates, before finally winding the whole thing up on November 19th at the Collins Center in Orono, Maine.
Wise Up Ghost is Costello's first album in three years, and came about as a result of his third (well, they didn't know him that well the first and second times) appearance on Late Night With Jimmy Fallon, where Roots serve as house music-makers, groove-givers and seemingly, networking masters. Apparently, what began as a single song soon became four and then, a whole album of kicking tunes.
Here's probably* how it all  happened in the no-doubt swanky backstage area:
Root no. 1 : You are so cool, Elvis Costello
Elvis Costello:  I know, man; so are you.
Root no. 2: That cool American accent you do is really cool. Like really cool. You should record it, or something.
Elvis Costello: That's a capital idea, Root no. 2; How about it, Roots?
Roots (in unison): Yeeeeaaaah.
(*no)
Anyway, the fraction of the cyber universe interested in Elvis Costello's bizniz is rife with talk of a joint tour between the Roots and the man himself on account of Wise Up Ghost, but given how often the cyber universe is rife with talk of untrue things, who knows whether that will ever happen – Neither Costello, nor his minders have made any mention of a collaborative tour.
Still, we can all dream.