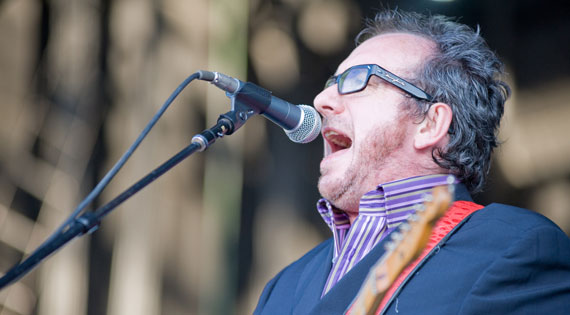 Randy Miramontez | Shutterstock
Elvis Costello Adds US Tour Dates While Rescheduling European Shows
A family illness has forced Elvis Costello to postpone more shows of his current Spectacular Singing Songbook tour, but that doesn't mean he isn't adding new shows at the same time.
Costello first postponed shows in September citing a family illness, as well, and now it appears that the same illness has and will postpone dates in Stockholm, Malmoe, Sweden, Brussels, Eindhoven, Netherlands and Reykjavik, Iceland, according to Pollstar.
The new dates announced are make-up dates for the previous postponements and are all in the Southeastern United States. Cities he will stop in are Melbourne, Fla., Clearwater, Fla., Hollywood, Fla., Jacksonville, Fla. and Durham, N.C. Originally Costello had a show scheduled in Orlando, and though it was not rescheduled, ticket holders can receive a refund at their point of purchase and have the opportunity to participate in a special presale for the Melbourne show.
The Spectacular Singing Songbook is a revived version of a tour Costello did 25 years ago. Part concert, part carnival, Costello has a giant wheel on stage featuring the names many of his songs, ranging from hits to rarities and covers. Selected fans are then invited on stage to spin the wheel, and then the band will pay whichever song is selected.
Costello has also announced European dates for a month long tour in May 2012. Almost all of the 15 dates will be in England, but he will spend one night each in Paris, Dublin and Glasgow.
Costello's most recent album was National Ransom, released in November 2010. Produced by T-Bone Burnett, the album featured guest appearances by Leon Russell, Buddy Miller and Vince Gill, among others. The album was similar in feel to the rootsy sound he had cultivated on his 2009 album Secret, Profane & Sugarcane, which also was produced by Burnett.