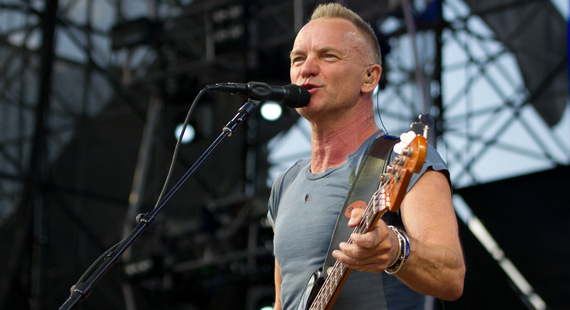 Mark Runyon | ConcertTour.org
Elton John, Neil Young, Sting to Perform at MusiCares' Salute to Bruce Springsteen
Elton John, Neil Young and Sting will be among the many artists on hand to honor Bruce Springsteen as  the MusiCares Person of the Year.
These artists and more will appear at a tribute for Springsteen on February 8 in Los Angeles, two days before the Grammy Awards are held in the same city. The MusiCares honor is presented by The Recording Academy, which is also responsible for the Grammy Awards. The award honors "exceptional artistic achievement and philanthropic work," according to The Recording Academy.
"The Daily Show" host Jon Stewart will host the tribute event, and other performers include Alabama Shakes, Jackson Browne, Kenny Chesney, Ben Harper, Emmylou Harris, Faith Hill, Jim James, Juanes, John Legend, Natalie Maines, Tim McGraw, Tom Morello, Mumford & Sons, Patti Smith, Mavis Staples and Eddie Vedder, according to a press release. The performers are expected to perform songs from Springsteen's catalog.
In addition to the tribute concert, the sold-out event also will include a silent auction, reception and a gala dinner with a live auction. Proceeds from the event go to struggling musicians with financial, personal and medical needs.
This year marks the 23rd year the MusiCares Person of the Year Award has been presented to some of music's biggest names. Previous winners are Tony Bennett, Bono, Natalie Cole, Phil Collins, David Crosby, Neil Diamond, Gloria Estefan, Aretha Franklin, Don Henley, Billy Joel, Elton John, Quincy Jones, Paul McCartney, Luciano Pavarotti, Bonnie Raitt, Paul Simon, Sting, Barbra Streisand, James Taylor, Brian Wilson, Stevie Wonder and Neil Young.
The tribute is part of Grammy Week, which will culminate with the 55th Annual Grammy Awards on Sunday, February 10, 2013. That event will be held at the Staples Center in Los Angeles, and will be broadcast live on CBS from 8-11:30 p.m. Eastern Time.