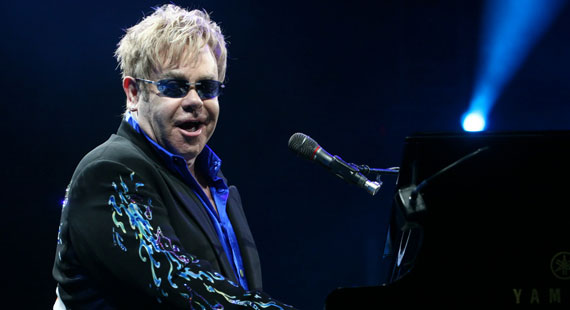 Mazzzur | Shutterstock
Elton John Fires Up Million Dollar Piano in Vegas this October
After being forced to cancel four "Million Dollar Piano" shows in Las Vegas last month, Elton John has announced 11 new shows that will take place in October as part of his ongoing three-year residency at the Colosseum at Caesars Palace. The new dates will take place October 10-13, 18-21 and 26-28
John cancelled the four shows at the end of May due to a "serious respiratory infection" that landed the legendary singer in the hospital. After his stay, he was ordered by doctors "not to perform any concerts for approximately seven days with complete rest and antibiotic treatment to cure his respiratory infection and prevent any damage," a statement on his website said. At the time, John said that the eleven concerts would be announced soon, and the dates were finally confirmed earlier today.
Between now and the October dates, John and his band will head to Europe for a summer tour, and then come back to North America in September for a handful of dates that will find the piano man visiting Peterborough, Ontario; Jackson, Miss.; Huntsville, Ala.; Johnson City, Tenn and Wheeling, West Va.
In other Elton John news, Universal Music has announced that they will release a box set containing five John records next month. The fittingly titled Classic Album Selection (1970-73) will be released July 16 and include John's self-titled sophomore album, Tumbleweed Connection, Madman Across the Water, Honky Chateau and Don't Shoot Me I'm Only the Piano Player. The box will contain all of John's first albums except his usually overlooked debut, Empty Sky.
Additionally, on July 2 the remix album Elton Vs. Pnau will be released. John gave Australian duo Pnau full access to his master recordings from 1970-1976, and the group remixed some of his best known songs into all new compositions.