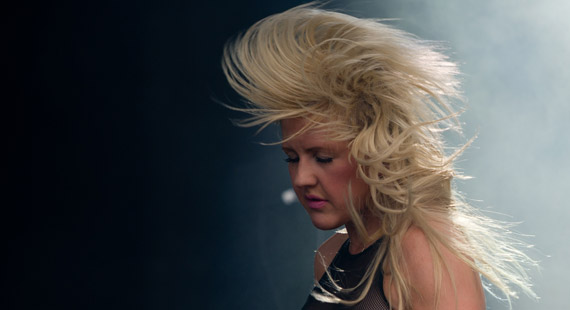 Mark Runyon | ConcertTour.org
Ellie Goulding, Passion Pit, Grouplove On for Atlanta's Party in the Park
This year's Party in the Park Festival in Atlanta will feature Passion Pit, Ellie Goulding, Grouplove and more.
The all ages, one-day concert will be held May 18 at the city's Centennial Olympic Park, lasting from 3:00 p.m. to 11:00 p.m. Only the three top billed artists have been announced at this point, but more announcement will be coming soon.
Tickets for the event are $35 and General Admission, and VIP Tickets are available for $115. You must be at least 21 to purchase VIP tickets. These passes include an exclusive entrance and access to a covered pavilion and an open-air space directly in front of the stage. The passes also include hors d'oeuvres and beverages as well as private restrooms.
Last year's incarnation of the festival featured The Flaming Lips, Young the Giant, Dawes and Awolnation performing.
Passion Pit will use the performance to continue to support its second record, Gossamer, which was released in July of last year. The album debuted at number four on the Billboard 200 albums chart. The group's first album, Manners, was released in 2009.
Ellie Goulding also is continuing to support her sophomore album. She released Halcyon in October of last year. It also cracked the top 10 of the Billboard 200 albums chart, debuting at number nine, and came in at number two on the UK album charts. The English artist released her first album, Lights, in 2010.
Grouplove has only released one album so far, 2011's Never Trust a Happy Song, though they did release a self-title EP the year before that. Much of the band's success has been tied to the single "Tongue Tied," off the full-length album.
In 2011 that song was used in an iPod Touch commercial, and later hit number one on the Billboard Modern Rock Chart. The song has also been featured in the Fox show "Glee."