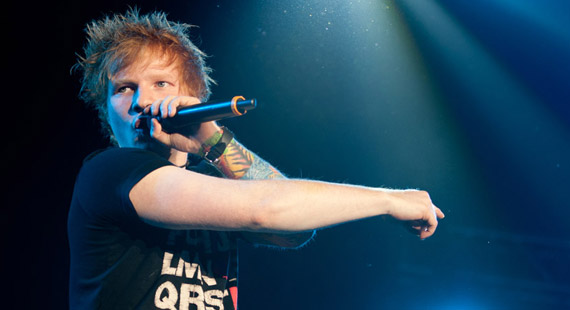 Mark Runyon | ConcertTour.org
Ed Sheeran Rolls Out U.K., Ireland Tour Dates for the Fall
Ed Sheeran fans have been sent into a wild frenzy of unfulfilled anticipation over the weekend, with the red-haired singer-songwriter's recent hints concerning a new album, and now, a new tour.
After anticipation reached fever pitch this morning with Sheeran's promises of an announcement, millions of worldwide Twitter refreshes happened, and now, UK fans (at least) can sit in a pile of their own calm. As for the rest of the world, we're sure Sheeran is sorry to leave you gasping for more.
'I'm back on tour in the UK and Ireland this October… On sale Friday morning xx,' he told his 8.5 million Twitter followers this morning, including a link to his ticket website.
'I'm so excited to put this album out. So excited,' he told followers earlier this month.
His UK and Ireland shows will kick off at the O2 Arena in Dublin on October 6th (who can think that far ahead, honestly?), with 11 dates to follow later that month, taking him to London, Belfast, Birmingham, Leeds, Nottingham, Newcastle, Manchester and Glasgow.
The "Small Bump" singer released his debut album, +, in September 2011, which hit the top of the charts in Britain and also made it to No.5 on the US Billboard Top 200.
No word yet on the new album, but given all his ridiculous tease of details, we reckon it won't be long till the Sheeranites will get their next fix of full-length sincere goodness.
Keep yourself glued to Sheeran's Twitter account, where he posts all of his news, but beware of the teasing – it can be brutal and has been known to leave followers obsessing over the refresh button. Don't say we didn't warn you.