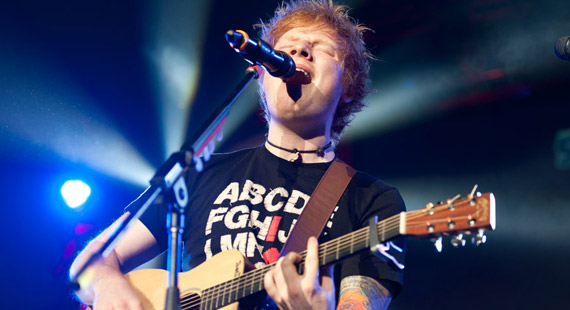 Mark Runyon | ConcertTour.org
Ed Sheeran Heats Up US with New Tour Dates
British sensation Ed Sheeran has announced that he will head to the U.S for his first North American tour this fall, and the initial dates he released sold so well that he has already added new shows to his itinerary.
The 21-year-old singer-songwriter will kick off the tour on September 8 at the Beacham Theatre in Orlando, and the trek is scheduled to run until October 6, when he will appear at Sodo in Seattle. In between those dates, he will visit cities including Milwaukee, Toronto, Boston, Philadelphia, Chicago, Los Angeles and San Diego.
Though Sheeran is not yet a household name to everyone in the U.S., he has enough fans to propel his debut album, +, to the number five spot of the Billboard 200 albums chart. That makes him the highest debut for a U.K. solo artist since Susan Boyle released her I Dreamed a Dream album in 2009, according to Billboard. That album debuted in the number one position.
But it's not just Sheeran's solo work that has gained him attention. He worked with fellow Brits One Direction on their debut album, and recently revealed to Perez Hilton that he will work with them again as they prepare their sophomore album.
"I wrote a couple of songs when I was 17 that One Direction want for their next album," he said. "I'm going into the studio in August to produce the tracks for them."
Additionally, he has also been working with Taylor Swift as she is working on her album that will be the follow-up to her 2010 release, Speak Now.
"It's such a pleasure to have people like her in the music industry – she has the talent and is so down to earth," he told Pop Crush. "…You hear horror stories about younger musicians who kind of go a bit off the rails, but she's so together and so kind of professional and knows what she wants, but… isn't too harsh."