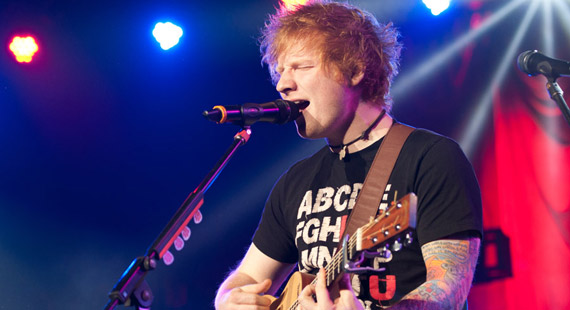 Mark Runyon | ConcertTour.org
Ed Sheeran Books 2013 Headlining US Tour
Ed Sheeran is currently making his way around the U.S. on the "VH1 You Oughta Know Tour," but he will be back early next year for another round of headlining shows.
The English singer-songwriter just announced a set of dates that will keep him on the road in the U.S. for about a month beginning next January. The first show will be an appearance at the House of Blues in Houston on January 17, 2013, and the trek is set to run through Valentine's Day, when Sheeran and his band will appear at the Rialto Theatre in Tucson. In between those dates, the tour also will visit cities including Dallas, Nashville, Detroit, Pittsburgh, New York, St. Louis, Los Angeles and San Diego.
Sheeran's current North American tour continues through an October 6 show at the Showbox SoDo in Seattle. All dates support the singer's debut album, +, which was released in September 2011. The album reached the number five spot on the Billboard 200 albums chart, making it the highest debut for a U.K. solo artist since Susan Boyle's I Dreamed a Dream hit number one in 2009.
Thus far the album has produced five singles, including perhaps his most well-known song, "The A Team." His most recent single is "Small Bump," which was released in May of this year.
In addition to writing his own songs, Sheeran also has been working with fellow Brit sensations One Direction, he revealed earlier this year.
"I wrote a couple songs when I was 17 that One Direction want for their next album," he told PerezHilton.com. "I'm going into the studio in August to produce the tracks for them."
Additionally, MTV reports that a duet Sheeran recorded with Taylor Swift will appear on Swift's upcoming album, Red. The two reportedly wrote the song while sitting on a trampoline in Swift's yard.