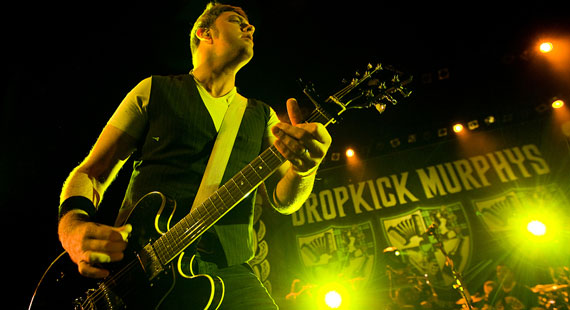 Mat Hayward | Shutterstock
Dropkick Murphys Celebrate St Paddy's with Boston House of Blues Residency
After a year long world tour, Dropkick Murphys are planning a return to the road in the sweet US of A, for a short stretch of shows in celebration of the Irishman's favorite holiday, St. Patrick's Day, at the House of Blues on Landsdowne Street in Boston.
The four-date stint will include five shows in total between March 13-16, 2014 with both a matinee and evening performance scheduled for March 15th. The shows are set to wrap up the band's national St. Patrick's Day tour, details for which have yet to appear in cyberspace.
It seems fair to say that the band have had a pretty good year thus far, with current release, the grimly-titled Signed and Sealed in Blood debuting at number 9 on the Billboard top 200 and getting critical respect from Rolling Stone, NPR, USA Today, Stereogum, among others. They also performed on "The Today Show", "Conan", "The Late Show with David Letterman" and raised $300,000 for those affected by the Boston Marathon Bombings through their charitable organization The Claddagh Fund by supporting the sale of a t-shirt proclaiming "For Boston", releasing an EP with the boss himself, Mr. Bruce Springsteen, and performing at a House of Blues benefit. Way to step up boys.
Dropkick Murphys show no signs of slowing down in light of their new tour news – but hopefully they'll get a well-earned break sometime over the Holiday period.