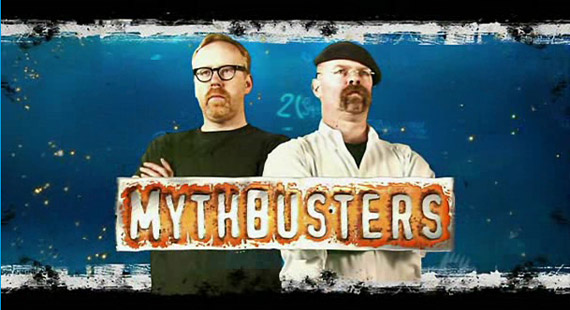 Discovery Channel
Discovery Channel Unleashes 'MythBusters' for American Tour
Discovery Channel's mega-hit show MythBusters is set for a fall 2013 tour.
Fans of the show are promised "on-stage experiments, audience participation, rocking video and behind-the-scenes stories" meaning that you may well get the chance to live out your life-long dream of busting your own myths.
Of course, you won't be expected to go busting any myths alone – co-hosts Jamie Hyneman and Adam Savage will be hitting the road along with the "Behind the Myths" tour with the show's website claiming that "fans will join Jamie and Adam on stage and assist in their mind-twisting and not always orthodox approach to science."
The website also describes each night as "an unexpected evening …", so literally anything could happen.
The tour is set to kick off on October 12th in San Francisco, after which the tour will see the duo, and presumably their portable labs and whatever other future-tech they need in order to conduct experiments, traveling to major markets like Reno, Minneapolis, New York, Detroit, Baltimore, and other locales, before wrapping their scientific shenanigans on December 22nd in North Charleston, South Carolina, at which point Science needs to pack up to rejoin its family for the holiday fun.
Last year's tour was very-well reviewed, with Wired saying the following:
"Overall, the night was everything I could have hoped. For small children, it is a really long show, but entertaining enough that they might surprise you and make it the whole way through. The MythBuster team managed to incorporate myths and stories from older and newer seasons, so you never felt like you were missing anything."
MythBusters remains one of the Discovery Channel's most popular exports, with five Emmy nominations, one Astra nomination, and a Young Artist award. It's also one of the oldest Discovery Channel shows currently in production, preceded only by How It's Made in the U.S. and Daily Planet in Canada.