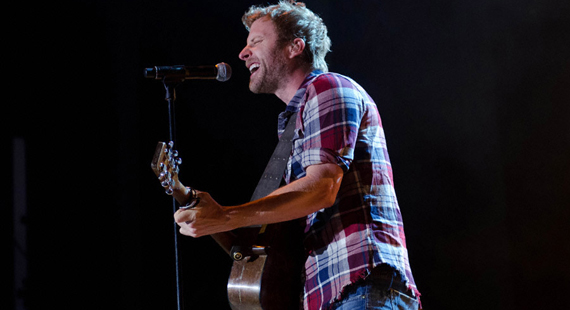 Mark Runyon | ConcertTour.org
Dierks Bentley Kicks Off Country & Cold Cans Tour
Dierks Bentley kicked off his current 2012 Country & Cold Can tour in style with a show last Friday April 13 in Los Angeles. In addition to his openers Eli Young Band and Will Hoge, Bentley welcomed a couple of famous friends to the stage, and there were a few more in the audience.
Foo Fighters' lead guitarist Chris Shiflett joined Bentley and his band as they covered the Foo Fighters' hit, "Big Me." The guitarist also played with the group for their cover of "Sin City," originally performed by the Flying Burrito Brothers.
Actor Garrett Hedlund later came on stage to perform "Hard Out Here." Hedlund performed the same song when he appeared in the Tim McGraw and Gwyneth Paltrow movie "Country Strong" in 2010.
The audience included many stars including Kirsten Dunst and Eric Stonestreet, a star of ABC's "Modern Family." The two actors, along with popular rockers Foster the People, were among those that joined Bentely for the a post-show party.
Bentley's next show is tonight in Missoula, Mont., and the tour will continue well into the year. Bentley's last currently scheduled date is a gig in Minot, N.D.  on September 29.
In addition to all his touring, Bentley also will be helping to celebrate Record Store Day, which is coming up this Saturday. To mark the day that celebrates independent records stores across the world, Bentley will perform an acoustic set at Easy Street Records in Seattle. He recently spoke about Record Store Day in a statement.
"Record Store Day is such a great event that has hardly had any attention in country music," he said. "Some of the coolest exclusive product comes out on this day at indie retailers, and I wanted country fans to be able to get in on the action I may have a few surprise guests up my sleeve, too. I'm really excited to take over Easy Street for an hour that afternoon… Seattle is such a great music town."