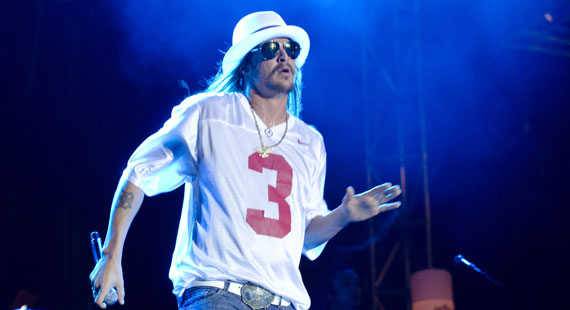 Mark Runyon | ConcertTour.org
Detroit's Finest Rockers Kid Rock, Bob Seger Join for St Paul, Fargo Concerts
Detroit Rock City, indeed.
Two of Michigan's most famous rock artists will team up for two shows in March. Bob Seger and the Silver Bullet Band will play with Kid Rock and his Twisted Brown Trucker Band at the St. Paul Xcel Energy Dome on March 15 and at the Fargo Dome in Fargo, North Dakota on March 16. Surprisingly, no Detroit shows with both acts are on the books.
The Oakland Press reports that Seger and Kid Rock have been long-time friends and have often spoken of playing shows together, though before now tour schedules hadn't lined up. But both artists are getting ready for spring tours, and the hands of fate decided the world was ready for a joint concert with the artists. Two concerts, as a matter of fact.
The two Michigan natives met in 2000, and Kid Rock inducted Seger into the Rock and Roll Hall of Fame in 2004. Rock then appeared on Seger's 2006 album Face the Promise for a duet of the Vince Gill song "Real Mean Bottle," and Seger returned the favor by appearing on Rock's album Born Free," playing piano on the Sheryl Crow duet "Collide."
Seger's "Rock and Roll Never Forgets" tour kicks off February 27 in Toledo, Ohio and will feature dates in the Midwest, the Pacific Northwest and Canada. Early in 2012, Seger announced that he hoped to release a new album by the end of last year that would be his first original studio album since Face the Promise. However, no album was released, and as yet there has been no word of a release date.
Kid Rock's tour kicks off February 2 at the Sprint Center in Kansas City, Missouri, and the trek will support his most recent studio album, Rebel Soul, which was released in November of last year. The album includes an updated cover of Ronnie Love's "Detroit, Michigan."