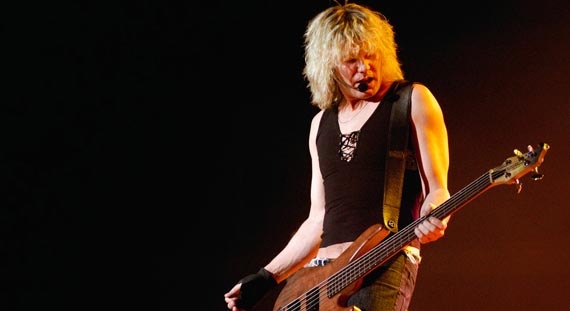 TDC Photography | Shutterstock
Def Leppard Mount Second Las Vegas Run in 2014 for 'Pyromania'
Def Leppard have revealed that a second Las Vegas residency may be in the works for 2014, and it doesn't stop there; apparently, the band are also working on an album of brand spanking new material. Def Leppard fans: if you were waiting for the right time to do it, yes, it's now officially time to dust off your hairspray and leather jacket.
Speaking to Billboard, band guitarist Phil Collen referred to their previous "Viva Hysteria" residency at the Joint at the Hard Rock Hotel and Casino, saying "The Vegas thing was amazing. We're also going to be doing 'Viva Pyromania' at some point at the end of next year."
No word yet on specific dates, so watch the cyber skies, and all that.
Pyromania, released in 1983 and certified 10 times platinum in 2004, was the English rock band's breakthrough album, predating Hysteria by four years.
Def Leppard performed at 11 'Hysteria' concerts in Las Vegas in March and April before heading to Europe where they played the album in full at Hellfest in France.
The album featured mega hits "Pour Some Sugar On Me", "Love Bites" and "Armageddon It", and the band still find themselves reflecting on it to this day.
"When we were rehearsing we realized how much went into that," Collen said on the red carpet after the finale of "The Voice."  "It's a rich and expensive sounding record.
"It doesn't sound like it now, but it was very experimental. Guitar parts that you only did once, you had to revisit. And you have to get into it."
Drummer Rick Allen added, "So much time went into recording that record. It is so deep and complex. Every time we play it, there's a new way to do it."
Def Leppard's last full length studio album was 2008′s Songs From The Sparkle Lounge.
Def Leppard also appeared on "The Voice" in order to promote the broadcast TV debut of "Def Leppard: Viva! Hysteria" on AXS TV, which is due to air on December 29th.